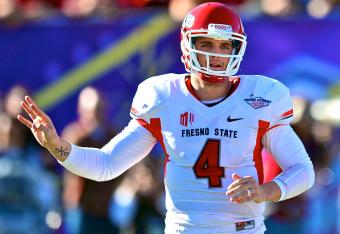 Getty Images/Ethan Miller
With Christmas in our rearview mirrors, college football heads into bowl season, and a crucial time of player evaluation begins.
For many college players, the best competition they will face all season comes in a bowl game. For players like Fresno State's Derek Carr, who struggled against USC in the Las Vegas Bowl, it's important to hit the ground running after the bowls to repair any damage done to their stock in the bowl game. But can a player really hurt his stock in one game? That's something we'll dig into this week.
This is an exciting week on the NFL draft calendar, and a full slate of games gives us plenty to watch this week.
Let's get started.
Five Up