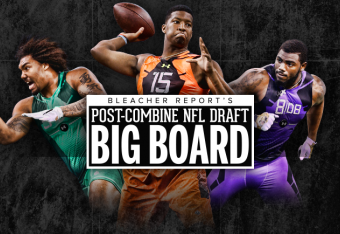 B/R
The 2015 Scouting Combine has come and gone, and now more than ever the draft process gets into full swing.
When I was coming up as an evaluator, I was taught by former NFL GM Charley Casserly to never let the combine completely change your board. The idea, he told me, was to let the combine separate players with a similar grade at a position (like Kevin White and Amari Cooper) and to confirm what you saw on film. And if a player like Byron Jones or Chris Conley wows you before you've had a chance to do a film evaluation, you highlight them when you get home and start watching film again.
So that's what I do. As much as is possible, I try to mirror my process after what Casserly, former NFL GM Michael Lombardi and others taught me.
NFL teams are doing the same thing this week—revisiting scouting grades and updating reports with medical, interview and workout notes. The result for them, and me, is a new big board.