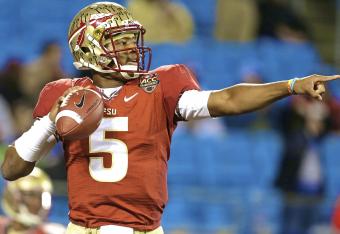 AP Images
Jameis Winston enters the 2014 college football season as the savior of Florida State football, the returning Heisman Trophy winner and an Adonis-like figure at the quarterback position. But does all that add up to a solid NFL prospect?
The summer months are slow for an NFL draft evaluator, and it's during this time when extended film study of previous seasons are so important. Last summer, I sat down with every throw Johnny Manziel had made and walked away a believer in his potential. This week, Winston goes under that same microscope.
Where will Winston be selected in the 2015 or 2016 draft? It's way too early to tell.
But what can be done is a thorough evaluation of his 2013 season and his potential as an NFL quarterback right now. Much can—and likely will—change over the course of his college career. But taking what Winston put on the field (and off the field) in 2013, here's what he needs to work on most before he's ready to be a legitimate No. 1 overall pick.