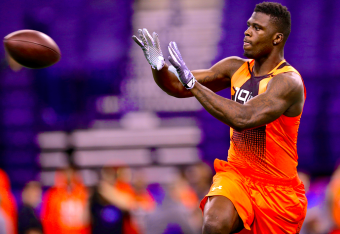 David J. Phillip/AP Images
If the draft season is like a football game, well, we're in the two-minute drill.
Just three days from now we'll be getting started on Day 1 of the 2015 NFL draft. The long wait is over. Soon we'll know the landing spots for Jameis Winston and Marcus Mariota, and we'll be ready to do post-draft grades and start talking about 2016. But for now, let's focus on the 2015 draft for one more week.
— In case you missed it, I reported Monday that multiple NFL teams want to draft Dorial Green-Beckham in the first round, but ownership has squashed those plans. In fact, one high-level source of a top-15 team told me this weekend they were flat-out told "no" by ownership about drafting Green-Beckham in the first round.
— The Oakland Raiders are a wild card in the first round, and sources with the team tell me coaches in Oakland have fallen in love with Alabama wide receiver Amari Cooper. If he's on the board with pick No. 4, he could be a surprise option over USC defensive lineman Leonard Williams.