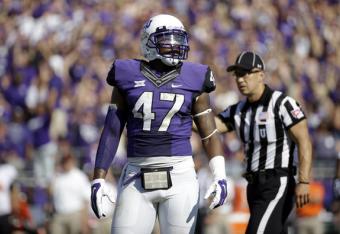 Associated Press
The deadline for underclassmen to enter the NFL draft is one week away—January 15—and already the 2015 class is shaping up to be a good one. With each passing day, more information and more analysis comes in. That's what the Scouting Notebook is here for, to update you on all things NFL draft each Friday.
This week's article is jam-packed with news on seniors and underclassmen, a look at one hit and one miss from my evaluations, a two-round mock draft and 10 players moving up and down on my draft board this month.
Ready? Let's go.
— TCU linebacker Paul Dawson is shooting up my board the more I watch him, and in talking with one area scout responsible for Texas, I heard that Dawson really dominated to end the year. The same scout said they view him as a Round 2 player with room to rise.
— Former Missouri wide receiver Dorial Green-Beckham comes with big off-field issues. I asked around this week and one very experienced general manager told me they view him as "undraftable" based on the legwork already done on his background.