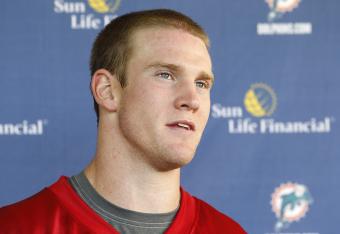 Joel Auerbach/Getty Images
When Ryan Tannehill was drafted eighth overall by the Miami Dolphins, most expected 2012 to be his redshirt year. The early word from the team instead had Tannehill in the thick of the starting quarterback position battle.
Tannehill was even creating a little buzz because he knew the Miami offense better than David Garrard or Matt Moore (which wasn't that surprising since Dolphins offensive coordinator Mike Sherman was Tannehill's coach at Texas A&M).
Two months later, Tannehill appears to be right back where we had him on the night of the draft—not ready to start...yet.
Brian Biggane of the Palm Beach Post reports that Tannehill is "not in the running right now" to start because of his "untimely" mistakes, especially when throwing into traffic. Biggane does add a "for now" to his statement that Tannehill's "apprenticeship" will continue as the No. 3 quarterback, but there are other reasons to think he isn't going to contend to start in training camp.