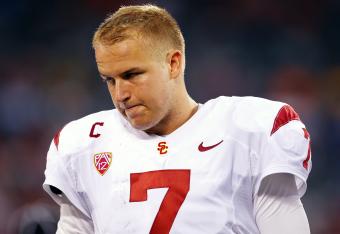 Rich Schultz/Getty Images
USC hasn't been quite the elite program of years past since Pete Carroll left, but you wouldn't know from their draft record. They have produced three top 10 picks from the two seasons without Carroll, and seven picks in the first four rounds of the last two drafts.
2012 could see them return to college football's top echelon while placing as many as three players in the draft's first round, possibly even in the draft's top 20.
Let's take a look at the best 2013 NFL draft-eligible Trojans.
QB Matt Barkley
Barkley is somewhat unique among elite quarterback prospects because he doesn't have outstanding tools. He is not the 6'2", 230 lbs. that USC lists him at, and Barkley is not a great athlete. He doesn't have overwhelming arm strength, either.