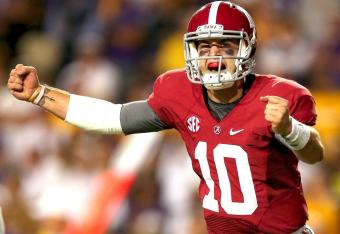 The 2013 NFL draft class is shaping up, and from the outside looking in, this class appears to be weaker than any in recent memory at the most important position in football: quarterback.
Will the quarterback of college football's best-stocked program find his place in the NFL?
A.J. McCarron has won a national championship. He's been a Heisman Trophy candidate. But how does his NFL future look? Until this writing, McCarron hasn't been looked at on my big board as a potential 2013 prospect due to his status as a junior, but in a weak year of quarterbacks, could McCarron be tempted to head to the NFL?
Before a future as a professional can be considered, just how does McCarron project at the next level?