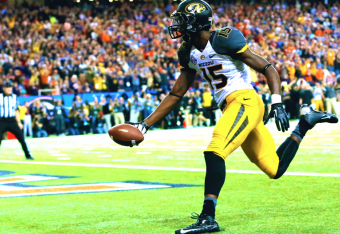 Getty Images
While you're reading this article, I'm packing my bags for the 2015 NFL Scouting Combine in Indianapolis, where I'll be covering the event for the fourth year. Combine week is a flurry of interviews, workouts and late-night talks with agents, scouts, coaches and general managers—for both players and media members.
Before we get into combine week, here's what I'm hearing around the league and a look at an updated Round 1 mock draft pre-combine.
— This is a draft article, but first a very credible rumor that will affect the draft: I'm told the New York Jets plan to roll out the red carpet for Demaryius Thomas if he doesn't receive the franchise tag from the Denver Broncos.
— After seeing Dorial Green-Beckham in person before the Super Bowl, I started asking NFL scouts what they've heard about his year at Oklahoma. As one Southwest scout assigned to Oklahoma told me, "He's completely turned his life around. Big brother moved in, whipped his ass and took control. He's on the straight-and-narrow since leaving Mizzou."