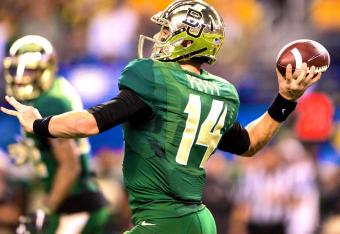 USA Today
If you haven't been able to keep up with the fast-paced NFL offseason, don't worry, you are not alone. But that's why the Scouting Notebook exists—to keep you up to date on everything that's happening in the NFL and how it relates to the draft. That means a new mock draft again this week, but first a ton of news and notes.
—Who are NFL teams eyeing most? I had one team picking in the middle of the first round ask how far, realistically, wide receiver Amari Cooper could fall in the first round. My answer: no later than No. 11 to Minnesota, and even that would be a shock.
—Multiple area scouts remarked to me about Wake Forest's Kevin Johnson, and how he's solidly put himself into the first-round conversation with a great combine and pro day. I did hear from one team, though, that doesn't like Johnson as much because their general manager saw him live during the season and questioned his slight frame.
—Speaking of Johnson, I'm told by a league source that he has visits lined up with the San Diego Chargers, Atlanta Falcons, Philadelphia Eagles, Pittsburgh Steelers, Dallas Cowboys, New England Patriots and Carolina Panthers.