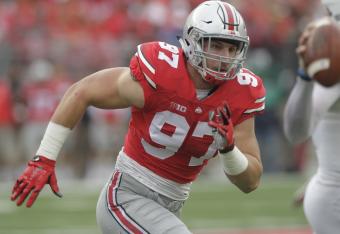 Jay LaPrete/Associated Press
Give this son of Missouri all your flyover state jokes, I can handle them, because we're going to talk about corn this week. Yes, corn. And it's draft-related, I promise.
What else is new in the land of the NFL draft? Fans in Chicago and New Orleans are boarding the quarterback train and we're only three games into their respective seasons, so which quarterbacks are worth tracking? I'll give you my current top 10. We're also going to look at the names to know when you watch college football this weekend and how injuries are already reshaping the draft landscape.
— When Cal met Washington last weekend, 23 NFL scouts were on hand, according to one of those scouts who texted me from the press box. And for you rumor-crazy Chicago Bears fans, I did also hear from scouts that general manager Ryan Pace brought four scouts with him to the game. Feel free to connect those Jared Goff dots if you'd like.
— I promised we were going to talk about corn, and we are. Corn Elder. He's a lights-out cover corner at the University of Miami. Scouts are raving about him, and for good reason. Per Pro Football Focus, Elder is the top-ranked cornerback in the nation so far.