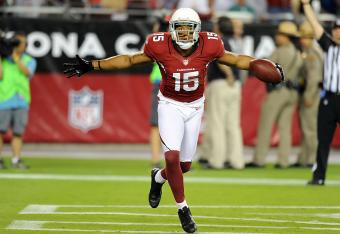 Norm Hall/Getty Images
A.J. Green hit the NFL like a punch in the face last year, quickly becoming one of the NFL's most dangerous wide receivers. The 2012 NFL draft's crop of wide receivers haven't quite lived up to Green's lofty standards, instead leaving many to wonder where the 2012 rookie receivers are hiding.
Five wide receivers were drafted in the first 33 picks of the 2012 draft, but to date, they've accounted for just 55 catches and three touchdowns in a combined 757 snaps played. To say the receivers drafted early in last year's draft have been disappointing would be a gigantic understatement.
What's keeping these young players from producing in their first season?
1. Justin Blackmon, Jacksonville Jaguars