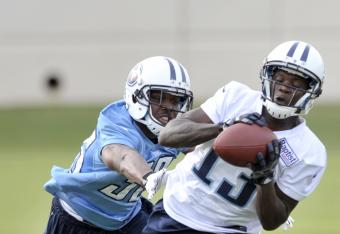 Jim Brown-US PRESSWIRE
Tennessee Titans first-round pick Kendall Wright's patience in negotiations paid off. He signed his first NFL contract on Tuesday with terms that indicate a clear win for the rookie.
Adam Caplan of the Sideline View reports that Wright signed a four-year, $8.218 million deal:
Brian McIntyre of NFL.com believes the deal is "fairly slotted," including the signing bonus of $4,471,056. What is more than fair to Wright is a guarantee of 92 percent of his fourth year, according to Caplan. This is significantly more than the guarantees given to Chandler Jones, the 21st pick, and Brandon Weeden, the 22nd pick. And it's almost more than 19th overall pick Shea McClellin had guaranteed in his rookie deal.
McIntyre points out that last year's 20th pick, Adrian Clayborn, had his deal fully guaranteed, which was probably a strong point in negotiations for Wright's camp.