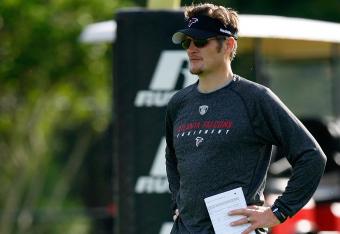 Kevin C. Cox/Getty Images
No team was bolder in the 2011 draft than the Atlanta Falcons, trading five picks, including their 2011 and 2012 first-rounders to move up for wide receiver Julio Jones. The team still ended up being one and done in the playoffs for the third time in the Dimitroff/Smith/Ryan era. Dimitroff now had to approach the the 2012 draft without his first and fourth-round pick and still basically where he was coming into the 2011 season. How would he deploy his limited resources to try to take the next step?
There was one area that the Falcons felt the need to improve more than any other
The Falcons offensive line was somewhere between a liability and a disaster last year. Everyone remembers the Matt Ryan pick in 2008, but Dimitroff moved up for Sam Baker later in the first round, and the move has not yielded a stalwart left tackle. The right guard position was a mess "led" by Garrett Reynolds.
Atlanta wisely used its first two picks on center/guard Peter Konz and offensive tackle Lamar Holmes. This is an admission that while the team has become a consistent winner, it needs to improve the line to get past its first playoff game. It's rarely as simple as "fill your biggest need with your earliest picks" in the draft, but the Falcons did just that.