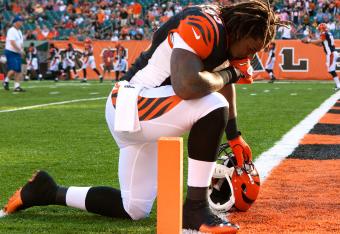 Vontaze Burfict's name has become synonymous with a draft prospect's stock (or worth) falling dramatically. NFL teams avoided Burfict like the plague when the 2012 NFL draft rolled around, and a player who was rated as the No. 2 overall prospect before the season began found himself on the outside looking in.
Enter the Cincinnati Bengals.
Burfict is a rare player whose stock fell like the stock market on Black Tuesday without ever having an off-field issue. Instead of DUIs or multiple children, Burfict's stock plummeted due to a poor attitude, a reckless style of play and a lack of contrition about his issues. Marvin Lewis saw something more, though.
Burfict's story didn't end with the 2012 draft because he didn't give up, and many players would have. Instead he's used his entry to the NFL as an undrafted free agent as motivation. Just five weeks into the season, and Burfict is starting at weakside linebacker.
What's different?
On-Field Control