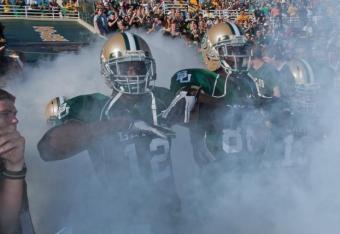 Photo Courtesy of M Khursheed

The Cleveland Browns thought more of former Baylor wide receiver Josh Gordon than any other team in the league. This is self-evident by the fact that they were willing to pony up what should be an early second-round pick, when no other team in the league was willing to spend a second-round pick on Gordon.
Monday's report from ESPN Cleveland's Tony Grossi reveals that the Browns might like Gordon enough to put him in the starting lineup from day one. Grossi projects Gordon to start at wide receiver opposite Greg Little, even though Gordon hasn't played football since 2010.
It's not that outlandish to project this, because the Browns started Little in 12 out of 16 games last year and basically gave him a starter's workload from the get-go, and Little missed the entire 2010 season after violating the NCAA rules about agent benefits.
But how much of this possible decision would be based on Gordon's readiness, and how much would be based on Mohamed Massaquoi and Carlton Mitchell's inability to develop early in their careers?