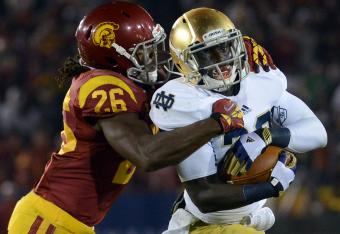 Harry How/Getty Images
It was hard for any Notre Dame players to step out of the shadow during last season, and it was even harder for its draft prospects to do that in the postseason. Cierre Wood is used to having to share the spotlight. Did his committee work in South Bend show that he has what it takes to play on Sundays?
Strengths
Wood is a high-effort back with elusive qualities both behind the line of scrimmage and at the second level of the defense. He is a resourceful back who will fire his legs and push to get yards after contact, and Wood also runs with good foot frequency and balance. Wood's vision spots the cutback lanes, and he has the juice in his legs to quickly change direction and attack the opening. He is also a tough back who will sacrifice his body for yardage, which isn't a quality that is usually present in elusive backs.
Weaknesses
Wood is more of a speed/burst back than a power back, but he lacks long speed. He's not big enough to substantially push the pile. Wood sometimes gathers to cut and his footwork costs him yardage and momentum. He isn't an accomplished blocker or receiver and projects as a committee back in the pros at best.
Tools
Wood's 5'11", 213-pound frame amounts to him being more of a slasher than a compact, efficient runner. His 4.56-40 time illustrates that lack of long speed, but his 37.5" vertical was one of the best among backs at the combine and confirms the physical talent that is the foundation of his elusiveness. He has small 8 5/8" hands, and his fumble at the goal line in overtime vs. Pitt almost cost the Fighting Irish a chance at the national title.