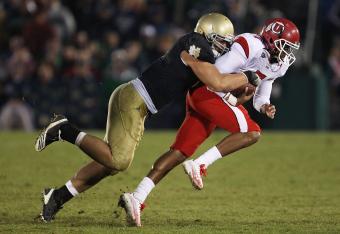 Jonathan Daniel/Getty Images
Inside linebacker is not a very highly valued position in the NFL draft. A player must have elite tools, instincts and production to get consideration in the first. The name that keeps coming up atop the 2013 NFL draft eligible class is Notre Dame linebacker Manti Te'o. The accolades are piling up for Te'o, but what about his play on the field? Is he deserving of a first-round pick next April?
Overview
Te'o is a massive linebacker at 6'2", 255 lbs. He is not particularly fast in a straight line, and he does not change direction quickly. In general, he is a little stiff and upright, and he also plays with a deliberate sense about his movements, except when he is moving in a straight line.
Te'o does not have legitimate sideline-to-sideline range, but his size makes him ideal for inside linebacker in a 3-4 defense, where range is not as important. He has a decent motor and is generally moving toward the ball until the whistle.
Instincts are not his strength, as Te'o appears to be guessing or reacting to what is happening instead of anticipating on most plays. He often guesses wrong or is a beat late from making a play, but Te'o still disrupts enough to be a catalyst for his teammates to make plays.