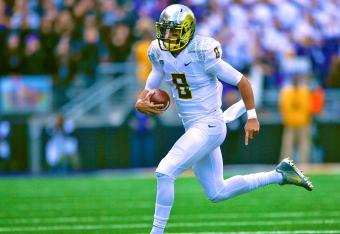 Andrew Luck or Robert Griffin III? Eli Manning or Philip Rivers? Vince Young or Matt Leinart? Peyton Manning or Ryan Leaf? Making the right decision on which quarterback to draft can be the difference between a Super Bowl ring and mediocrity—but in some cases it works out either way. Or doesn't at all.
In the 2014 draft class, once again we have that debate at the top: junior Teddy Bridgewater of Louisville or redshirt sophomore Marcus Mariota of Oregon?
Draft classes are often defined by the potential of the quarterbacks available, and in the 2014 class we have two top-five players with instant-impact ability.
Which player grades out as the better of the two?