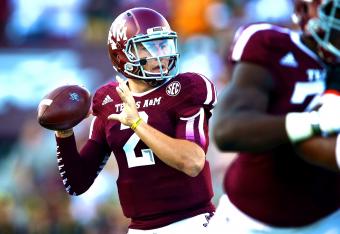 USA Today
Texas A&M redshirt sophomore quarterback Johnny Manziel is officially headed to the NFL, per NFL.com's Gil Brandt. How will the league view him?
Manziel accomplished plenty at the college level during his two seasons as the Aggies' starting quarterback. He won a Heisman Trophy. He led the team to a surprise win over Alabama in 2012 and then nearly beat the Tide single-handedly this past season. Manziel has produced, and he leaves College Station as a decorated college quarterback. But that's not always a guarantee of future success in the NFL.
With Manziel officially in the draft, NFL scouts can speak more freely about his draft stock. One AFC West scout told me that Manziel would be a top-10 pick, and probably top five. Another former NFL front office executive likened Manziel to a cross between "Russell Wilson and Brett Favre." That might seem like hyperbole, but Manziel is highly regarded among scouts and executives who have bought in on the mobile quarterback trend.
Those teams who aren't impressed with running quarterbacks are likely to view Manziel much differently, of course. His style, on and off the field, is not for everyone.