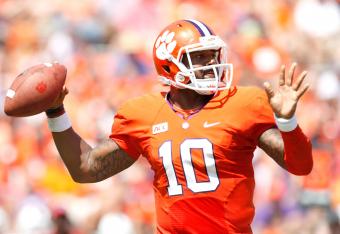 Tyler Smith/Getty Images
After a big week of college football rivalry games, Week 4 brings us a slightly less stocked schedule. That won't stop NFL teams from hitting the road to check out the best college football prospects battle head-to-head.
Here are the seven games every NFL front office will be watching this weekend.
The Clemson offense won't get a big test against the North Carolina State Wolkpack defense, but the one matchup everyone will be watching is between wide receiver Sammy Watkins and cornerback Dontae Johnson. Watkins has justified his No. 1 wide receiver ranking this season and will look to extend his cushion over the competition.
Arizona State had a key game last week when it hosted Wisconsin. It will be under the microscope again this week as marquee running back Marion Grice attempts to make plays against a tough Stanford defense. Quarterback Kevin Hogan has future first-round potential.