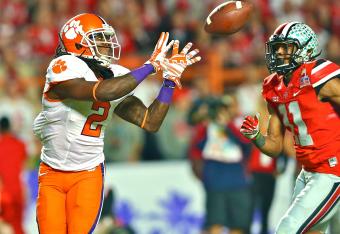 Getty Images
In today's NFL, to have a truly great offense, you need great wide receivers. Period.
They are the soul-crushers of a defense and the chess pieces for offensive coordinators to make or break each week. They're game-changers. They're playmakers. They're the guys for whom your defensive coordinator stays up all night scheming, trying to find a way to shut down a 6'5", 230-pound nightmare with 4.4 speed.
In the 2014 draft class, there is a lot to like at wide receiver: speed, size, a little of both, a lot of both and everything in between. The best receiver in this class isn't 5'9" and a player for whom you must scheme touches.
No, the best players in this class demand the ball. They go for it.