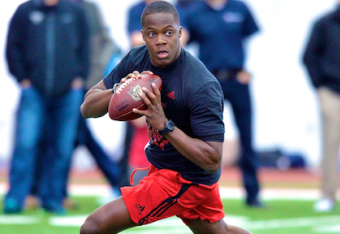 Timothy D. Easley/AP Images
With less than 50 days until the first pick of the 2014 NFL draft, it's time to get busy. NFL teams and media evaluators alike are battling the clock to finalize evaluations, study depth charts and fine-tune the draft work that's been ongoing since last May.
What's changed?
Pro days are here, and with them comes all of the madness of "draft stock." Should players move up or down the board based on an on-campus workout in shorts and T-shirts? That's a matter of opinion, and different evaluation philosophies will tell you yes or no.
We'll get into that and more in this week's Scouting Notebook.
Five Up