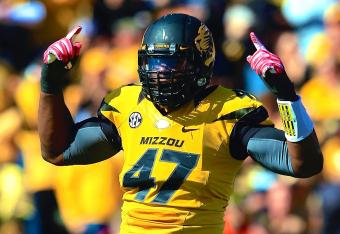 Getty Images
The 2014 draft class is anchored by one of the best defensive end prospects of this era in Jadeveon Clowney. The rest of the class is pretty good too.
The defensive end class of 2014 comes in all shapes and sizes. There are potential 5-techniques, future outside linebackers and the type of scheme-versatile studs who are ready to be molded into NFL superstars. So who comes in graded as the top overall player?
That's what the NFL Draft 100 aims to identify. Looking only at the film, who is the best?
The B/R NFL Draft 100 metric is based on scouting each player and grading the key criteria for each position. The criteria are weighted according to importance on a 100-point scale. Unlike our NFL 1000 series, this project factors in upside for each player—as the NFL draft is as much about upside as it is about production.