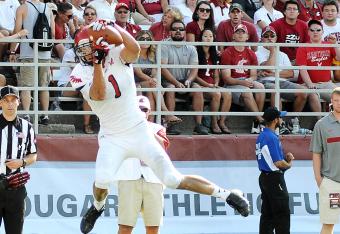 James Snook-USA TODAY Sports
Small-school wide receivers that put up numbers as big as Brandon Kaufman's 2012 season will always get attention from NFL scouts. The ability to find a diamond in the rough who was overlooked because of his level of competition can pay big dividends down the line. Will Kaufman's game translate to the next level?
Strengths
Kaufman is a big receiver with enough speed to create some deep separation and ball skills and catch radius to come down with the more tightly contested passes. He's tall, but plays with some strength and sturdiness. Kaufman does not shy away from contact and is willing and able to work the middle of the field. He has a solid stop-start move in the open field and should be a weapon in the red zone.
Weaknesses
Even though he isn't a poor athlete, Kaufman's quickness and speed are average or adequate at best among big NFL receivers. He isn't particularly agile, flexible, or explosive and won't regularly get behind NFL secondaries. The level of play and lack of complexity in Kaufman's duties makes his ability to make in the NFL a larger unknown.
Tools
Kaufman is 6'5", 216 pounds with 32 1/4" arms, presenting a big target for his quarterback. Even though he only timed 4.68 in the 40, Kaufman was able to consistently challenge and often pull away from defensive backs, although they were FCS-level players.