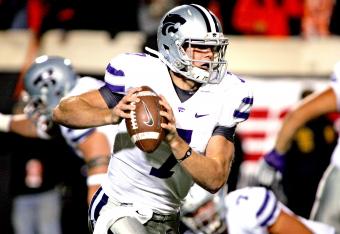 If you're a fan of college football, you've undoubtedly heard of Kansas State senior quarterback Collin Klein. He's a likely Heisman Trophy candidate, and at 6'5" and 226 pounds, a bit of a physical freak under center.
Klein is one of the best quarterbacks in college football, but what about next season? Does the Wildcat quarterback project to the NFL, or is he another Tim Tebow?
Fans of Tebow must excuse me, but your poster boy has become synonymous with great college quarterbacks who aren't good enough passers to make the transition to the NFL. Klein falls into that category for evaluation, and you can't ignore the sheer physical similarities between the two.
So, is Klein the next Ben Roethlisberger or Tebow?