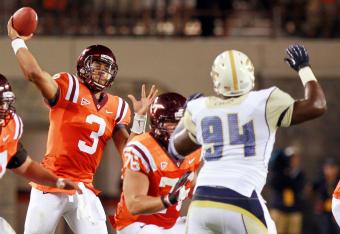 Geoff Burke/Getty Images
The NFL season is only a week old, but there are at least a handful of teams that are already wondering which quarterback they will have a chance to take in the first round.
Virginia Tech's Logan Thomas might top the list for some teams because he's 6'6" 260 pounds with good athleticism and great natural arm strength. Thomas has a limited body of work, with only one year as the starter under his belt, so the redshirt junior's performances are going to be under the microscope, as teams that are likely to choose early in the draft narrow down their list of targets. Thomas hasn't had a command performance in two games against Austin Peay and a banged-up Georgia Tech defense.
Are there reasons for the scouts to start doubt Thomas' worth after these games?
Accuracy
Thomas has only completed 59 percent of his passes after completing 59.8 percent last year. This is particularly troubling because he plays in a pass offense with lots of simple reads and quick, short throws.