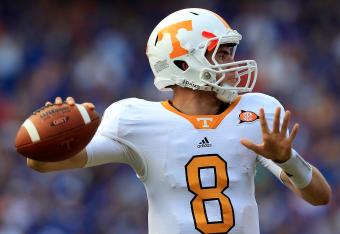 Sam Greenwood/Getty Images
The class of quarterbacks eligible for the 2013 NFL draft is one of the strongest in recent memory entering the upcoming season. Excellent prospects with a diversity of strengths and playing styles will keep the pro scouts busy for months to come.
It will be difficult to separate quarterbacks like Matt Barkley (USC), Tyler Wilson (Arkansas), Geno Smith (West Virginia), Logan Thomas (Virginia Tech) and Tyler Bray (Tennessee) if they all play up to their potential this year. One important tiebreaker will be that ever-prominent buzzword around draft time—"character."
Bray just gave NFL teams a reason to put a black mark in the character column of his scouting report. According to John Adams and Don Jacobs of GoVolsXtra, Bray and his roommate, Michael C. Grandinetti were drinking and throwing beer bottles and golf balls at a parked car on the night of Friday, July 20.
Knoxville Police Department spokesman Darrell DeBusk said no charges will be pressed because Bray reached out to the owner of the car and offered to pay for the damages to her car. What's troubling is that the incident on Friday night might not have been the only one Bray was responsible for.