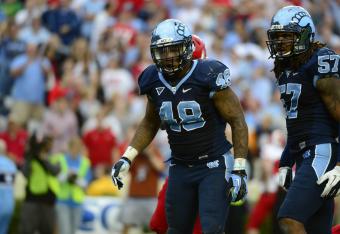 USA TODAY Sports
Kevin Reddick was a coveted recruit for North Carolina who ended up being a four-year starter. He made his biggest impact as a senior after a junior season that was pockmarked by injury issues. Reddick's versatility makes him a unique talent, coming from a defense that has been a pipeline to the NFL in recent years. Where does Reddick fit in the pros?
Strengths
Reddick is a multifaceted talent with middle linebacker and pass rushing proficiency. He almost never leaves the field and looks equally comfortable whether he's in the opponent's backfield or dropping into coverage. Reddick is a finisher when he has a quarterback in his sights and he is very good at knifing through gaps and disrupting running plays.
Weaknesses
You won't see Reddick take on a blocker very often. He prefers to run around blocks and is often results in his being out of position when the play comes his way. Reddick is somewhat tentative in his movements and will bite on fakes or otherwise overreact to developments in the play. He's not physical and not difficult to knock off of his path when he is defending the run. In general, Reddick's play lacks edge and urgency. He has trouble sticking to receivers, and his instincts on reads often let him down, taking him away from the action.
Tools
Reddick has average size at 6'1", 243 pounds. His 4.72 40 is also adequate, but not a plus. He looks even slower on film. Reddick isn't a quick-twitch player, but he occasionally flashes explosive change-of-direction skills. He does have a closing burst, especially as a pass-rusher.