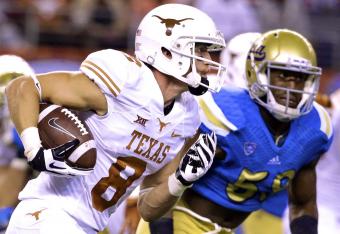 Associated Press
We are 33 days away from the 2015 NFL draft, and that means it's getting serious in the world of scouting and team building.
Pro days, private workouts and final grades are being assigned to players across the NFL—and at Bleacher Report we're doing the same thing. As part of an upcoming NFL Draft 400 series—scouting, grading and ranking the top 400 players in the class—notes are changing daily. The repercussion of that is a lot of movement up and down the board as the draft nears.
Who is moving up, who is moving down and how does the top 50 look today? Find out below.
— Nebraska edge-rusher Randy Gregory admitted to a failed drug test at the NFL Scouting Combine. How does that affect his draft stock? On my board, it won't move Gregory from his spot at No. 7 overall, and one college scouting director I reached out to said it won't change him on his board either. "Everyone already knew this was an issue," he told me. There were rumors dating back to August about Gregory and marijuana, so teams were prepared for this news to break.