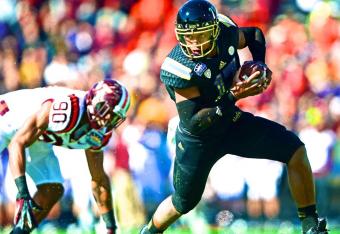 USA Today
The NFL draft has become a 365-day news cycle, but there is definitely a "draft season." And we're getting close to it. With six NFL teams already eliminated from playoff contention and just four weeks of NFL play left, many teams are shifting their focus to the upcoming offseason. That means more information from scouts, more underclassmen making NFL draft decisions and a whole lot of film study to set my big board for player rankings.
You'll get that in this week's Scouting Notebook, plus a look at the updated draft order and each team's biggest need as we head into the offseason.
— In all my talks with NFL scouts this week, no player was mentioned more than Wake Forest cornerback Kevin Johnson. He's soaring up boards as teams file their initial grades this week. More on him below.
— What are NFL scouts doing this week? The National Football Scouting meetings are taking place in Indianapolis this week, and most clubs are bringing in all their scouts from the road next week to set an initial big board based on area scout grades. Expect a big information dump in the next 10 days as these scouting meetings get underway.