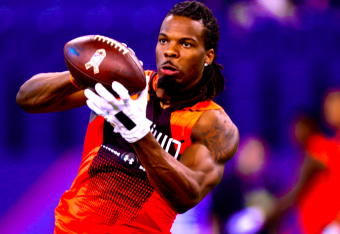 AP Images
By the time you read this article, there will be just 12 days separating us from the first round of the 2015 NFL draft. All of your hopes and dreams for that final piece in a Super Bowl puzzle or that one player who can start a rebuild and change a franchise will come down to the decision of a general manager or head coach (or a homeless guy if you're a Browns fan).
Where is each team leaning as we enter the final days? We'll get into that and look at an updated Big Board with final grades.
— Matt Baker of the Tampa Bay Times reports that Jameis Winston has been sued over a December 2012 sexual assault allegation. How will this affect his stock two weeks before the draft? I reached out to six scouts and general managers and asked them, "Would you draft Jameis at No. 1?" Each of them replied with affirmatives. This lawsuit, stemming from the original allegation that Winston has been cleared of twice, is not new information.
— Expect to hear that the Cleveland Browns haven't worked out quarterback Marcus Mariota, even though myself and others have reported their interest in the former Oregon quarterback. But here's something to remember: The Browns hired Mariota's pre-combine quarterback coach Kevin O'Connell for the same job. They don't need a private workout or visit when they have intimate knowledge of his abilities.