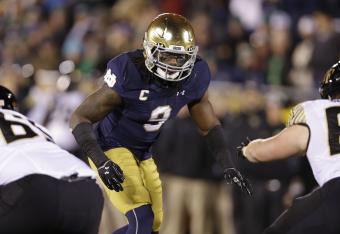 Michael Conroy/Associated Press
—If you love sleepers, keep this name in mind: Cole Toner. The Harvard right tackle was pointed out to me recently by an area scout, and after watching three games myself, he looks like the real deal. In checking in with other scouts from two teams, everyone has him in the top 100 currently, with every team I've talked to projecting a position change to center in the NFL.
—Georgia head coach Mark Richt announced this week that running back Keith Marshall would leave school early and enter the 2016 NFL draft. Marshall (5'10", 215 lbs) doesn't show great NFL speed on film, but he does have a draftable grade as of now even with the injuries he's suffered.
—It's been a weird week for Josh Doctson injury updates. Last week there was confusion over if he was out for the year or expected to play, but he didn't see the field Saturday and on Wednesday, head coach Gary Patterson announced Doctson would miss the rest of the regular season, per Mac Engel of the Fort Worth Star-Telegram. The senior wideout has a first-round grade.
—It happens a lot and often isn't newsworthy—when an opposing coach compares a player to J.J. Watt or Aaron Rodgers or says an opponent is the best in college football. But when a scout says Alabama has the best defensive line he's ever seen, that's newsworthy. Thanks to Bruce Feldman of Fox Sports, that's the word coming from a "veteran NFL scout" with first-round grades for A'Shawn Robinson, Jarran Reed and Jonathan Allen.