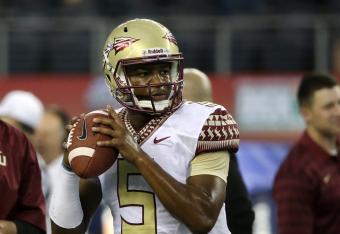 Tony Gutierrez/Associated Press
As I sat in our Bleacher Report New York studio Monday morning, our production assistant sat with his laptop and an intense look on his face. "What are you doing?" asked our host, Adam Lefkoe. "Looking at mock drafts for the Giants, man. We suck" was his reply.
Love it or hate it, it's draft season for many fans across the country this week. And that's who the Scouting Notebook is for.
This week we'll talk a lot about Florida State quarterback Jameis Winston, what the future holds for Robert Griffin III in the NFL and take a close look at my top ranked defensive tackle in the country. So if you're like our PA Gabe, this is for you.
— Jameis Winston is in the news again, and this time it's due to a suspension after the Heisman Trophy winner stood on a table in the student union and yelled comments better not printed here. Deadspin has the full report for those interested. This one incident is not, by itself, the type of thing that would hurt a player's draft stock. It's immature, it's inappropriate, but it's forgettable. The issue is that Winston now has a run of incidents, and NFL general managers are under increased pressure to keep low-character players off their team.