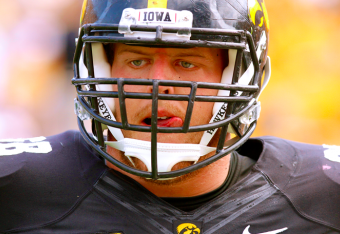 Getty Images
Look back through the history of Iowa football, and you will see name after name on the offensive line who made their mark in the NFL. Left tackle Brandon Scherff is the next Hawkeye you'll want to get to know.
With the 2015 draft still nine months away, Scherff has the tools, film and talent to be the top pick in the entire class. What makes this stud from Iowa so good?
Can Scherff be the next Bryan Bulaga or Riley Reiff? That's very possible given the football IQ (FBI), footwork, strength and upside he showed during the 2013 season. But now Scherff is back for his senior season after deciding to wait on the NFL—even though he looked like a sure-fire first-round talent after his junior season. The big left tackle went back to school to work on his technique, and along the way he has a chance to entrench himself as the nation's best tackle—and maybe the best overall prospect.
The Iowa schedule in 2013 put Scherff up against some of the nation's best pass-rushers, and he showed weekly why he's the best technician in the college game. Facing future NFL talents like Shilique Calhoun (Michigan State), Joey Bosa (Ohio State) and Danielle Hunter (LSU), Scherff made a name for himself as a top-tier run-blocker and athletic corner-stop in the passing game.