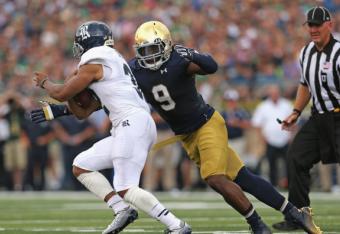 Jonathan Daniel/Getty Images
Welcome back. It's been a while.
The 2015 college football season is here, and the NFL season is waiting around the corner—like an old friend at the bar with your favorite drink in hand. Football is back, which means it's time for long sleeves, warm chili, Oktoberfest beers and NFL draft talk.
Every Friday from now until the NFL draft on April 28, 2016, this will be your one-stop shop for all of the important news, notes, rumors and analysis surrounding the draft. Here you'll find rankings, mock drafts, player evaluation notes and tips on which games to watch so you can be up to date on the best prospects in the land.
If you're new here, hopefully you come back every Friday. If you're coming back for year two of the Scouting Notebook, it's good to see you again.