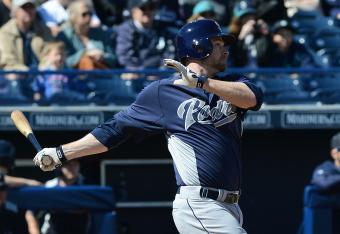 Headley would be a great fit in the middle of the Dodgers lineup but it's doubtful they could pull off a trade for him.
Jennifer Stewart/Getty Images
Two of the most disappointing teams in the majors this season are the ones from Southern California not named the San Diego Padres, who have actually won 11 of 14 games and have a better record than both the Angels (11-22) and Dodgers (13-20).
Injuries have played a huge factor for both struggling teams. The Dodgers have been without Hanley Ramirez and Zack Greinke for a majority of the season, and Chad Billingsley had season-ending Tommy John surgery. The Angels have been without Jered Weaver and Ryan Madson, while Albert Pujols is playing through a painful foot injury.
But that's the story for many teams around the league.
While both the Angels and Dodgers had impressive projected 25-man rosters coming into the season, a closer look would tell you that they might have issues if they were forced to dip into the upper minors for help. Neither team had much immediate help on the way.