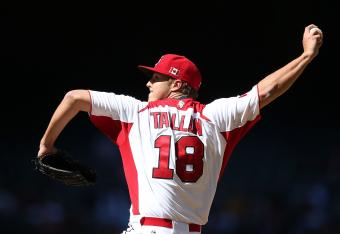 Pirates prospect Jameson Taillon will likely be a popular trade target for teams in
Christian Petersen/Getty Images
Nearly a month into the MLB season, weaknesses are being exposed on most 25-man rosters around the league, and baseball writers are already speculating what teams will need to do at the trade deadline. OK, so that was mostly just me.
The point is that the Hot Stove will be heating up very soon with trade talk coming from all directions. With every rumor, you're going to be hearing a lot about certain prospects that non-contending teams will very likely be seeking in return for major league talent. It doesn't mean they'll get them. But it's worth them asking in any case.
These six prospects won't necessarily be going anywhere in a July trade. But they will, in my opinion, be the most asked about by the "seller" in any trade talk, and they're also on teams that could be looking to add an impact player for the stretch drive.
Oscar Taveras, OF, St. Louis Cardinals