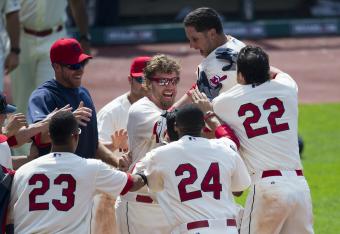 Jason Miller/Getty Images
Do the Cleveland Indians have your attention?
If not, they should.
After concluding a four-game sweep of the Seattle Mariners with a walk-off win on Monday afternoon, the Tribe have won 15 out of 19 in May and 18 out of 22 dating back to late April. They presently have a 2.5-game lead in the AL Central over the reigning American League champion Detroit Tigers.
It shouldn't feel legit. Not after what the Indians did the last two years. They were 32-20 at the end of May in 2011 and 27-23 at the end of May last year. They ended up flopping both times, and how.
I shouldn't buy the Indians. I really shouldn't buy the Indians.