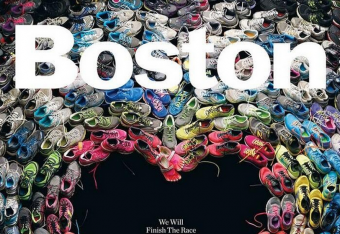 Image via Boston Magazine

Colorful and moving, the upcoming cover of Boston magazine is a visual testament to the cooperation and togetherness exhibited by marathon runners and the people of Boston in the aftermath of the terrible bombings that rocked the marathon race on April 15.
Arrayed together in a heart shape, the shoes that will run on the cover of the magazine's May edition are of those of the runners who participated in the 2013 Boston Marathon.
As it appears, the owners of these shoes were there in the city, running for their own reasons on the day of the bombings. Their collected "stories" will be told by the magazine, presumably in a manner that paints a unique picture of the tragic events of that fateful day.
It's probably safe to assume that some of these shoes pounded the sidewalk toward the fallen after the two bombs went off on Boylston Street. It's likely that some of them stepped in blood and drank up tears in the aftermath. A few might have even been owned by the runners who kept running after completing their 26 miles, the ones who headed to hospitals to give blood for the recently injured.