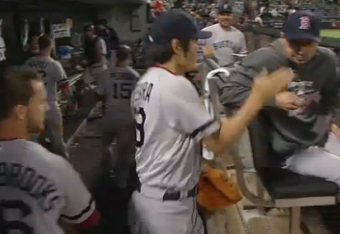 Someone better teach Koji Uehara proper high-five form before he kills someone.
Larry Brown Sports, Yahoo! Sports and many others spotted what has to be the most ecstatic setup man high-five in baseball at the moment.
Uehara comes out of the game after a successful eighth inning against the Chicago White Sox at U.S. Cellular Field.
Really, there was nothing shocking about the moments before Uehara blasts Shane Victorino with the full force of a man who hasn't mastered the fine art of restrained high-fives.