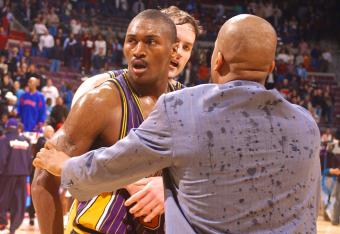 Getty Images
Nov. 19, 2004.
The Indiana Pacers and the reigning NBA champions, the Detroit Pistons, meet in a much-hyped rematch of the previous season's Eastern Conference Finals.
The Pacers are off to a strong start—6-2 on the season, a 15-point lead over the Pistons with less than a minute remaining all but assuring Indy of another notch in the win column.
A hard foul by Ron Artest on Ben Wallace sparks some pushing and shoving. Benches clear. The officials stop play. A beer comes flying down from the stands and hits Artest, who's laying on the scorer's table.