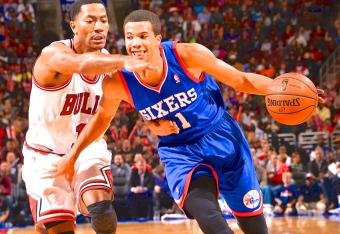 If you weren't already aware that the NBA is back in business, you sure should be now. The first week of the 2013-14 season woke up the basketball world—and then some.
Of the 46 games played between opening night on Tuesday and this past Sunday, 28 were decided by 10 points or fewer. For those of you keeping score at home, that means that more than 60 percent of Week 1's games could be considered close contests.
And you thought LeBron James' field-goal percentage was ridiculous...
The point is, parity reigned supreme from the opening tip, as it so often does. Every team is still working out its various kinks. Those welcoming new faces into the mix are just as susceptible to getting caught flat-footed by plucky upstarts as they are by veteran squads returning intact.