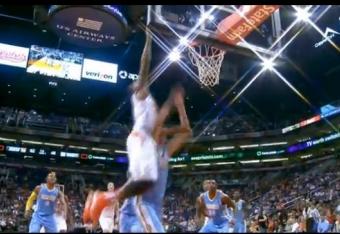 No seriously, Google it. "Mozgov'd" is a word now, part of the NBA lexicon. Friday night saw yet another entry into the vernacular, courtesy of the Phoenix Suns' Markieff Morris:
Credit the Denver Nuggets big man (originally of the New York Knicks) for bravely attempting to thwart the league's high fliers. But at some point, self-respect (preservation?) has to enter into a defender's personal equation.
Or does he just want to set the record for appearing on NBA posters?
No one knows for sure, but scholars maintain that "Mozgov'd" is an ancient seafaring word, created during the heady and now nearly forgotten days of 2010...