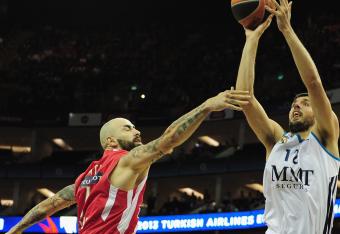 Jamie McDonald/Getty Images
It's easy to forget the Chicago Bulls have a good-looking player just seasoning over in Europe. Nikola Mirotic, the No. 23 pick in the 2011 NBA draft, has been absolutely tearing it up.
Last season, Mirotic was named MVP of the Spanish ACB after playing a significant role in Real Madrid's league-championship run. His numbers are even better this year, while his team is staring at an 8-0 record.
Mirotic has played 15 games so far between the Spanish ACB and Euroleague, averaging around 15 points per game against excellent international competition. And after this season, the Bulls will have the chance to bring him over for a price.
Take a look at the damage he's doing for Real Madrid this year (stats via Eurobasket.com):