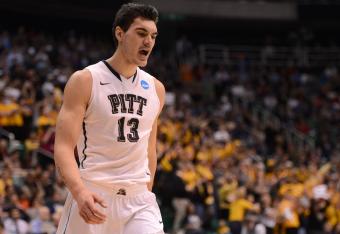 Harry How/Getty Images
Steven Adams found himself on that can't-miss list entering his freshman year at Pittsburgh. Ironically, it turns out he was pretty tough to find.
The New Zealand native played a minimal role in Jamie Dixon's offense. During one loss to Cincinnati, Adams played 24 minutes without taking a shot.
He's still learning the game and figuring how he fits in.
However, Adams drew rave reviews at this year's NBA Combine, where he was able to showcase some hidden talent and a likable personality. With just five weeks left before the draft, the buzz on Adams is starting to pick up.