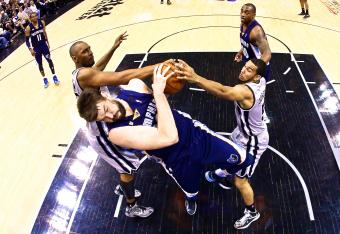 You'd hardly know the San Antonio Spurs were a high-flying finesse team after the way they closed out Game 2 of the 2013 Western Conference Finals against the Memphis Grizzlies Tuesday night.
The Spurs were up by as many as 18 points in the third quarter and 14 in the fourth. Tony Parker appeared poised to challenge the NBA playoff record for assists in a game, with 16 dimes through the first three frames. All five of San Antonio's starters had already scored in double figures while helping to hold the Grizzlies well under 40 percent from the field.
Then, the wheels came off the wagon, and the Spurs found themselves on the brink of blowing a crucial contest at home. Over the last 8:10 of regulation, San Antonio missed all but one of its 12 attempts from the floor (including an ugly fadeaway by Tim Duncan at the end of the game), turned the ball over four times, and racked up six fouls—four of which came on the same possession.
Not that the Grizzlies played any prettier. Zach Randolph had himself another forgettable game. He had just two points at the half and (once again) struggled to get his shot off from among San Antonio's trees. Tony Allen airballed his fair share of shots, as did Jerryd Bayless, who clanked a three off the backboard in the closing seconds of overtime.