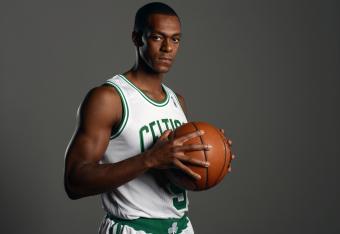 Brian Babineau/Getty Images
So long as Boston Celtics point guard Rajon Rondo stays on course to become a free agent in 2015, you'll hear him linked to any team projected to have cap space. That's how these things work. Get used to it.
A recent interview threw a little wrench into the speculation machine, however. Rondo's former high school coach at Oak Hill Academy, Steve Smith, was conducting what appeared to be an innocent, retrospective interview. But then Smith said this, via Jason Jordan of USA Today, completely unprompted:
Anthony, who has the option to opt out of his current deal and become a free agent this offseason, also attended Oak Hill, so this isn't completely out of nowhere.
This is very good news for the New York Knicks, not necessarily because you should believe that Anthony's powers of persuasion will actually get Rondo in a Knicks uniform, but more because he's at least trying. That's an encouraging sign from a player who could very easily abandon a sinking ship this offseason.