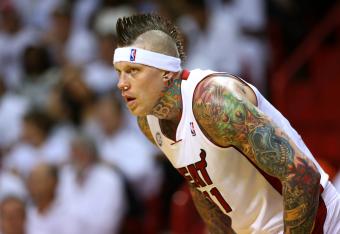 Mike Ehrmann/Getty Images
Whoever's idea it was to sign Chris "Birdman" Anderson deserves a raise.
The Heat went out and bought a Band-Aid that happened to be the exact same shape as the wound. Anderson's strengths have played directly to Miami's weakness.
There was no interior activity from the bigs before the Birdman arrived. Think about the depth they had at the 4 and 5 positions. Joel Anthony was the only big man they had coming off the bench, and with all due respect, I've got a refrigerator in my kitchen that offers more versatility.
But I guess you don't need much of a bench when you have a guy like LeBron James who could play five positions in a half.