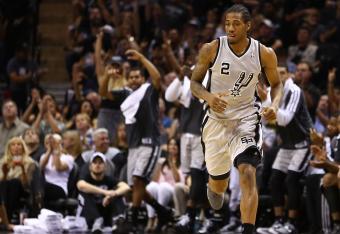 Kawhi Leonard was one of multiple Spurs shooters feeling his three-point shot Sunday in Game 1.
Ronald Martinez/Getty Images
The visiting locker room of the San Antonio Spurs is often filled with the collective what-are-we-supposed-to-do shrugs of mystified opponents.
Welcome, Memphis Grizzlies.
The Spurs' collective of diverse talent and an offensive scheme that's harder to figure out than a silver-and-black puzzle was at it again Sunday in San Antonio's 105-83 Game 1 blowout of Memphis.
The Spurs execute opponents to—yeah, death—through offensive sets that present multiple high-percentage options.