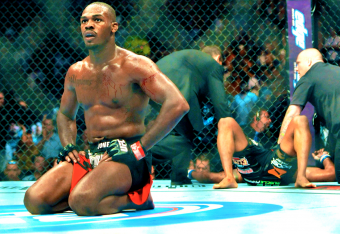 AP Images
For my money, the best part of last week's instantly infamous off-air SportsCenter squabble between Jon Jones and Daniel Cormier comes before either of them even utters a word.
The death threats and trash talk are fine—to borrow a phrase from Nick Diaz, it's whatever—but the truly golden moment of this exchange emerges the instant Jones decides he's going to go in on Cormier. You can see it as he fiddles his earpiece into place, a little grin creeping across his face before he opens his mouth and says: "Hey p---y, are you still there?"
And for a moment even Cormier has to laugh.
Whether Jones knew this recording would eventually become public or not, that one mischievous half smile tells us everything we need to know about how the light heavyweight champion is approaching this fight. With their mega-bout looming at UFC 178 on Sept. 27, it's no accident the notoriously aloof Jones is picking this moment to abruptly lose his cool.