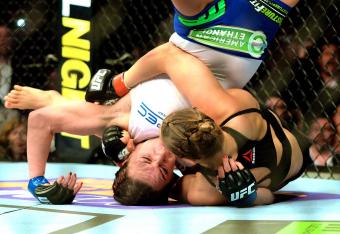 USA Today
Saturday night's UFC 184 event offered more of that patented Ronda Rousey magic: the anticipation, the atmosphere and the quick destruction of an opponent that leaves us all breathless and wondering who can possibly step up and give Rousey a run for her money.
Today, we take a look back at Saturday night and figure out what we learned, loved and hated. Leave your own thoughts in the comments below.
WHAT WE LEARNED
Rousey's dominance is something of a controversial subject. At least that's what social media would have you believe. The more times Rousey goes out there and beats people in mere seconds, the less inclined folks at home will be to either buy pay-per-views with her headlining or to go out to a bar, pay a healthy cover charge and make an evening out of watching her defend her championship.
On Saturday night, I was afforded the opportunity to go out and watch UFC 184 at a sports bar. It was the first time in many years I've been able to do so. I am glad I did, because it was a learning experience.