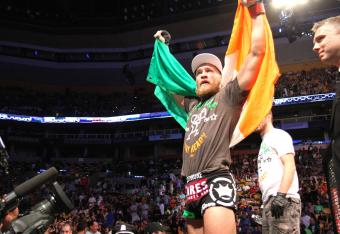 Gregory Payan/AP Images
Two things were immediately apparent on Saturday, after Conor McGregor dusted Diego Brandao via first-round TKO at UFC Fight Night 46.
First, McGregor has "it."
The 26-year-old Dublin native possesses charisma for days, all the potential in the world and very much looks the part of a major player in the UFC's international expansion plans.
Second, he's still got a long way to go to prove he's as good a fighter as he says he is.