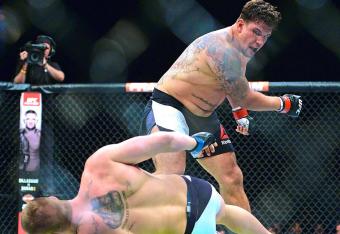 USA Today
The UFC heavyweight division is a pretty weird place right now.
Weirder than normal, even.
It was hard to shake that strangeness on Wednesday night, watching 36-year-old UFC lifer Frank Mir fell 29-year-old powerhouse Todd Duffee like a stick of lumber in the main event of Fight Night 71.
The 265-pound class has long been one of the oldest, shallowest wells on the roster. This year, however, it's starting to seem like—to borrow a phrase from new interim featherweight champ Conor McGregor—the distinguished elders of the heavyweight division aren't just here to take part.
They're here to take over.
Mir's victory over Duffee was his second first-round stoppage in a row and his second this year, extending an improbable turnaround after he went 0-4 from 2012 to 2014. Even Mir seemed a bit surprised about how it all went down once he had a few minutes to reflect on it.