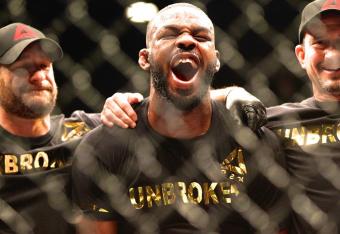 Getty Images
For the last six months, they were the best of enemies, and on Saturday at UFC 182, Jon Jones and Daniel Cormier pretty much proved to be perfect dance partners, too.
Jones got the last laugh—retaining his title and sending the 35-year-old Cormier spinning into uncertainty with a unanimous-decision win—but not before the challenger brought out the best (and worst) in the polarizing light heavyweight champion.
It was fitting that their intense personal feud ended with a fight as emotionally charged and layered as the bad blood itself. Also, that the two did not immediately kiss and make up afterward.
"The respect just wasn't there," Jones told Fox Sports 1's Brian Stann after the judges awarded him victory (49-46 x 3). "I don't like Daniel Cormier. I don't respect Daniel Cormier. I hope he's somewhere crying right now."