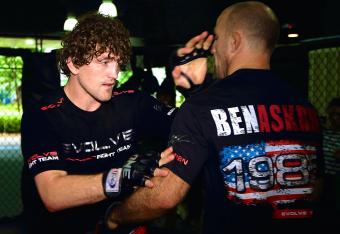 USA Today
Clearly, getting kicked off Inside MMA was a win-win for Ben Askren.
If Askren had been wondering how to take his ongoing rift with UFC President Dana White to the next level, Kenny Rice and Bas Rutten were happy to squat down last Friday and give him a boost.
By prematurely pulling the plug on their interview with the outspoken OneFC welterweight champion, Rice and Rutten managed to let Askren say his peace while simultaneously propping him up as the exiled firebrand too hot for American TV.
And if you're Askren, that's exactly where you want to be.