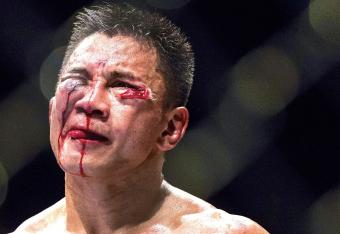 Getty Images
Even after a week of speculation, public disputes and good, solid reporting by MMA's best journalists, there is still a lot we don't know about Cung Le's positive drug test.
At this point, though, the simple question of Le's guilt or innocence has become secondary to the one thing we can say with absolute certainty: The UFC can't continue to oversee its own drug-testing program. It needs help.
Last week, the fight company self-reported that the 42-year-old Le had tested positive for "an excess level of Human Growth Hormone in his system" following his UFC Fight Night 48 bout against Michael Bisping in Macau, China. As a result, the former Strikeforce middleweight champion received a nine-month suspension.
We all agree it was a good thing the UFC reported this. We also agree it's admirable that the organization regulates its own affairs when it ventures to places lacking their own athletic commissions. On top of that, it's great—stupendous, really—that the UFC will ramp up its testing efforts come 2015, according to multiple recent reports.