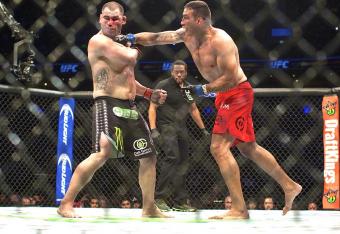 AP Images
Nobody likes the idea of the UFC title scene reduced to a series of do-overs.
In a sport that prides itself on fast-paced action and definitive outcomes, rematches—immediate or otherwise—usually aren't the best strategy. Thrilling multi-fight feuds like Randy Couture vs. Chuck Liddell or Frankie Edgar vs. Gray Maynard are exceptions, not the rule.
The rule is typically a lot more underwhelming.
After recent title rematches in the middleweight, welterweight and bantamweight divisions and upcoming reruns expected at flyweight and women's bantamweight, you can't blame fans who are hungry for fresh meat.