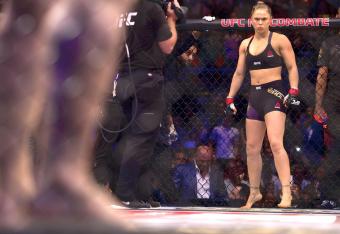 Getty Images
Ronda Rousey and Cris "Cyborg" Justino are going to fight each other.
If you're the kind of person who insists on reading the last page of the book first, that's really all you need to know. The rest of this stuff—the public finger pointing, the promoter's denials, the name-calling, the endless weight debate—is all just background noise.
Eventually, too much money will be on the table to let this fight go unmade. UFC President Dana White has already estimated it would do 2.5 million buys on pay-per-view, which would make it far and away the biggest bout in company history.
White is nothing if not optimistic. If it did even half that number, Rousey vs. Justino would be an absolute slam dunk, a no-brainer for all involved. So perhaps the only real questions are how soon it will happen and whether both fighters will still be in the prime of their careers once it finally does.