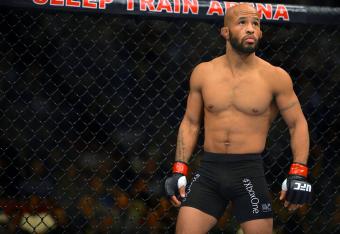 USA Today
Demetrious Johnson is an avid gamer, and so it is a little upsetting for him that the Electronic Entertainment Expo—or E3, in the parlance of those who follow such things—is taking place in Los Angeles the same week he is scheduled to fight Ali Bagautinov up north in Vancouver, Canada.
He is not that upset, though. He has kept up with the news that comes out of E3, first as a trickle and then as a flood. He is exclusively an Xbox gamer, by virtue of his sponsorship with Microsoft, and is especially looking forward to the two new Halo games coming out later this year and 2015, respectively.
He played the new UFC game from Electronic Arts for the first time earlier this week, and noticed how the new next-generation graphics systems created a nearly perfect digital rendition of his physical form.
"They got me tattoos, my five o'clock shadow, everything," Johnson says. "It's good."