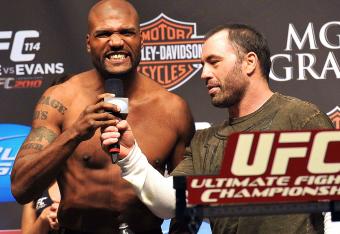 Getty Images
If there's one thing you know about Quinton "Rampage" Jackson, it's that you never really know anything at all.
Jackson, 35, has now changed his tune on an infamous 2008 car chase that ended with Jackson lying face down in the street, legs splayed and his arms behind his head as police officers arrested him. He was charged with multiple felonies, but Ultimate Fighting Championship officials—including president Dana White—bailed Jackson out of jail. In fact, White immediately flew from Las Vegas to Orange County and put down the $25,000 bail, then helped him with the legal trouble stemming from the wild police chase.
Of course, that's all forgotten about these days. Jackson has moved on to Bellator, where he continues to take shots at White and the UFC for being cheap. He is also spending his days taking potshots at Reebok, yet another company joining a long list of people who have allegedly harmed Jackson in some way.
It's safe to assume that—given Jackson's history with anyone who goes into business with him—Bellator and Bjorn Rebney will eventually find themselves the target of his ire. It is only a matter of time.