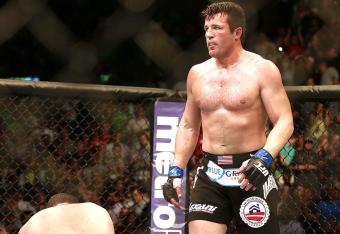 Winslow Townson/USA Today
It is a familiar refrain: Chael Sonnen, coming off a loss, finds himself in position for a title shot.
It happened in 2013. Sonnen lost a middleweight title fight to Anderson Silva the previous July, only to find himself competing for the light heavyweight title in his first bout in the division since 2005. Chased from the middleweight division after two losses to the champion, Sonnen moved up and, with a calculated leap, skipped right over all the light heavyweights who were jockeying for their own opportunity to face Jon Jones.
Sonnen lost that fight, making him 0-3 in title fights in the UFC. He rebounded with a submission win over Mauricio "Shogun" Rua but was finished by Rashad Evans a few months later. Retirement talk began to swirl; a post-fighting career as a television personality felt closer than ever. Sonnen ultimately decided to continue fighting, but his days as a title contender were over.
Logically, it was tough for fans to imagine Sonnen going on the kind of run that would earn him a rematch with Jones or a shot against middleweight champion Chris Weidman.