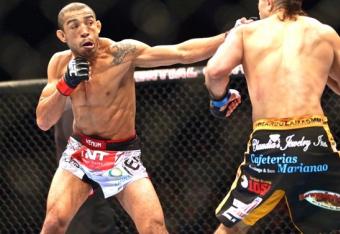 USA Today
Don't get me wrong, Jose Aldo has been a very good champion for the UFC.
Aldo, in fact, is the only featherweight titlist the Octagon has ever known. By the time the UFC absorbed the WEC at the end of 2010, he'd so firmly entrenched himself as the best 145-pounder in the world, executives merely "promoted" him to the rank of UFC champion without bothering to have him fight for it.
It was the right move. Today, he's the fight company's longest-reigning champ. As he approaches a UFC 179 rematch with Chad Mendes on Saturday, he's No. 2 on the organization's official pound-for-pound rankings. His streak of successful UFC/WEC title defenses stands at eight and—perhaps most astounding of all—he's the proud owner of 17 consecutive overall victories.
All impressive numbers from any vantage.