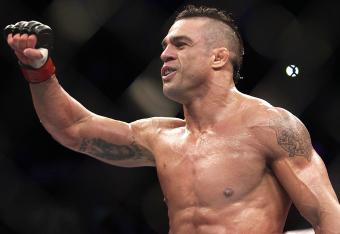 AP Images
Somewhere, PT Barnum must be smiling.
The saga of Vitor Belfort reached the circus-sideshow stratosphere last week, with the embattled fighter finally releasing the results of his February drug test, after months of claiming the outcome was "irrelevant."
Surprise! He failed.
Things stand to get even weirder, when Belfort appears in front of the Nevada State Athletic Commission attempting to secure a license to fight Chael Sonnen at UFC 175. Nobody knows exactly how that bit of regulatory origami will unfold, but it feels like a fork in the road for MMA's sometimes-complicated handling of fighters caught using performance enhancers.
If Belfort is able to roll out of that hearing, license in hand, with time served or no punishment at all—well—it'll seem like anything's possible.