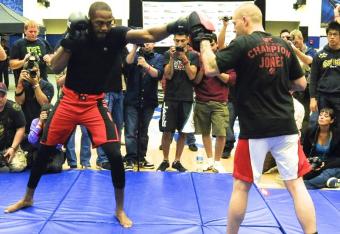 AP Images
Brandon Gibson says the first time he studied film on Daniel Cormier, he was in a truck stop outside Amarillo, Texas.
It was mid-summer, and Gibson was on his way home from visiting family in Ohio. He was nearing the end of the marathon drive back to Albuquerque when UFC light heavyweight champion Jon Jones called with breaking news. Top contender Alexander Gustafsson was out of their UFC 178 bout with a knee injury. Now, Jones would fight Cormier instead.
Gibson was somewhere out on I-40 when he found out all the work they'd put in preparing to rematch the lanky, 6-foot-5 kickboxer would go to waste. The way he tells the story—and certainly he's paraphrasing—his response to learning Gustafsson would be replaced by the stocky, undefeated former Olympic wrestler was two words.
"All right."
If anything, maybe that's Gibson in a nutshell—serene exterior, calculated, a little bit zen—but inside, his trainer's brain was already spinning. The next time he pulled over for gas and discovered the roadside truck stop had Wi-Fi, he slipped out his phone to see what he could see on the new opponent.