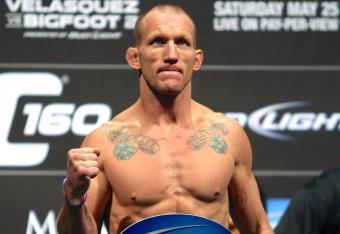 USA Today
Gray Maynard isn't quite done with Frankie Edgar. At least, he hopes not.
Maynard and Edgar's story began on April 2, 2008. The location was Broomfield, Colo., and the event was Kenny Florian vs. Joe Lauzon. Maynard and Edgar were in the co-main event spot, and Maynard scored a unanimous-decision win in a fight that wasn't all that memorable.
Fast forward to almost three years later. Edgar was the reigning UFC lightweight champion, having dethroned B.J. Penn almost a year prior, then defending the belt against Penn in a rematch. Maynard had won five fights in a row, finally beating Kenny Florian to earn his title shot.
At UFC 125, Maynard challenged Edgar for the title. He came oh so close to beating Edgar, pummeling him badly and nearly finishing him in the first two rounds before Edgar began to mount a comeback. Though it seemed improbable (if not downright impossible) after the beating Edgar took in the opening minutes of the fight, he did enough to earn a split draw with Maynard.