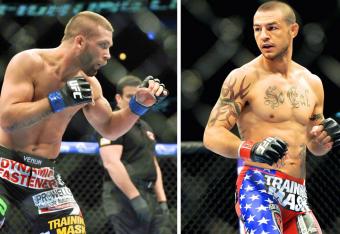 USA Today
Jeremy Stephens and Cub Swanson want to believe their stories are still being written.
They both likely shudder to think they would be defined by moments past. Were that the case, Swanson would forever be remembered as the victim of Jose Aldo's insane eight-second double flying knee at WEC 41; Stephens would be remembered as the guy whose biggest career headlines came after his arrest on felony assault charges just before UFC on FX 5.
Neither would make a particularly proud legacy, so it's tempting to cast Saturday's UFC Fight Night 44 main event as a crossroads for both men.
The winner could be granted a future featherweight title shot and perhaps a chance to replace sour memories of the past with a brighter future. The loser shuffles back to the 145-pound pack, known at least a while longer for stuff he'd probably sooner forget.