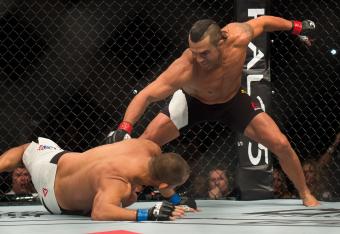 Jason Silva-USA TODAY Sports
It was just one of those nights.
Long before Vitor Belfort authored an abrupt head-kick knockout over Dan Henderson in the main event of UFC Fight Night 77 on Saturday, you could feel an odd momentum building.
Well, as much momentum as a fight card can build after running until nearly 4 a.m. in its host city of Sao Paulo, Brazil.
The final four bouts of the night all ended in knockouts, including Belfort's left kick to Henderson's face just two minutes into the first round of their trilogy fight. The ending looked eerily similar to the pair's second meeting, when Belfort starched Henderson with a similar kick in 1:17 almost two years ago to the day and also in Brazil.