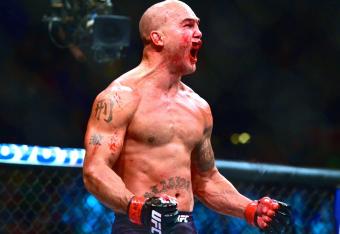 USA Today
On a UFC 189 fight card that at times felt like a flying leap into MMA's future, Robbie Lawler served up an old-school slugfest in the evening's co-main event.
It turns out you can drape Lawler in his brand-new Reebok "champion's kit," overhaul the pay-per-view broadcast with fancy retooled graphics and summon some technological wizardry to project hype videos on the actual floor of the Octagon, but the UFC welterweight champion is still going to do what he's been doing since he was 19 years old.
Now 33, he just does it better than ever.
Lawler shifted through a number of familiar gears during the 21 minutes he spent in the cage with Rory MacDonald on Saturday night. He went from laid back to deadly serious and back again as the two put on a brawl that lifted an already stellar PPV.