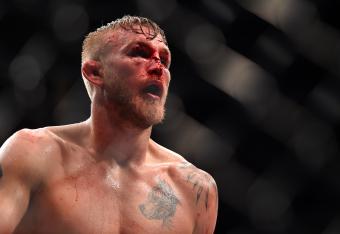 Jeff Bottari/Zuffa LLC/Getty Images
For the second time in his career, Alexander Gustafsson on Saturday pushed the reigning UFC light heavyweight champion to the limit.
For the second time, he came away with nothing.
On this night it was Daniel Cormier who got more than he bargained for from Gustafsson. The lanky Swede weathered the storm of a big takedown in the first round of their bout at UFC 192 and battled back to make things uncomfortably close by the time Cormier's split-decision victory was announced 20-plus minutes later.
Gustafsson steered mostly clear of the champion's vaunted wrestling skills for the remainder of the fight. He peppered Cormier with stiff jabs, bloodying him under the right eye and nearly knocking him out with a knee to the face near the end of the third. He suffered the abuse Cormier dished out in transition and in the clinch and kept coming back for more.