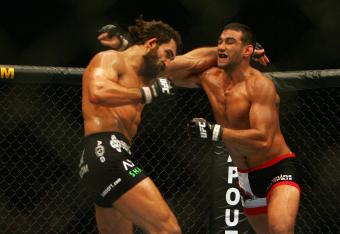 Gary M. Prior/Getty Images
Eight seconds.
In life, eight seconds doesn't isn't really any grand significance of time, unless you just so happen to be a bullrider. Beyond that, however, most people wouldn't look at eight seconds as anything more than a blink of time.
That's not the case for former UFC heavyweight champion Andrei Arlovski. Eight seconds was a very important amount of time for him, given what happened in his last fight.
Arlovski was battling Anthony Johnson in World Series of Fighting back in March when the first round was supposed to be over. Suspiciously, there was no final bell or horn to actually stop the action. Instead, Johnson cracked Arlovski with a huge punch that sent him tumbling back towards the canvas.
It was later revealed that the shot broke the Belarus native's jaw.