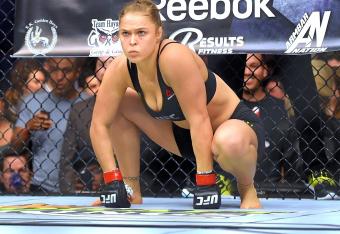 AP Images
It's strange to think that 11 fights and nearly four years into her amazing MMA career, we still have no idea how to talk about Ronda Rousey.
Through five appearances in the Octagon—capped by Saturday's 14-second destruction of Cat Zingano at UFC 184—the women's bantamweight champion has been so dominant that all our normal buzzwords fall pathetically short.
The lasting impression is that Rousey is so far ahead of her time—not to mention her best competition—that her own peers and her own employer don't know exactly what to make of her. She's obviously incomparable, but we can't stop comparing her to her male counterparts. She's obviously unique, but so far, we're dead set on cramming her into some mold, some prefabricated cliche.
To that end, UFC President Dana White was happy to make Mike Tyson allusions at Saturday's post-fight press conference. In keeping with MMA's steadfastly oblivious relationship with the troubled former boxer, White didn't appear to reckon that this might not be a wholly positive comparison or an awkward one to make about his first women's champion.

"She is—without a doubt—that female version of him," White said, via MMAFighting.com's Luke Thomas. "That's exactly what she reminds me of."