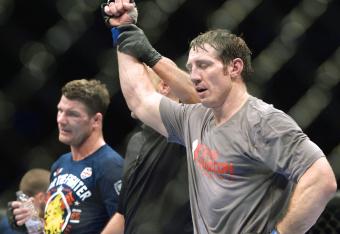 USA today
In January, I attended a gun show with Tim Kennedy.
That morning, Kennedy had agreed to a new contract with the UFC. He'd also been given the fight he requested against Michael Bisping. There was a skip in his step and a glimmer in his eye. He was confident in his chances against Bisping, though he never specified why.
We know now. Boy, do we ever.
His confidence was borne of a lethal combination: an excellent game plan from Greg Jackson and the fact that Kennedy is a bad style matchup for Bisping. We saw it as Kennedy smothered and out-positioned Bisping on the way to winning a decision Wednesday night.
The joke about British fighters almost always involves their lack of wrestling. And while Bisping will not be confused for Cael Sanderson, his defensive wrestling has always been a hallmark. He is difficult to take down. Keeping him on the mat is an even tougher task. He moves and scrambles and sweeps, forcing the opponent on top to prevent his escape. Instead of focusing on his own positional improvements, his opponent must spend energy keeping Bisping in place.