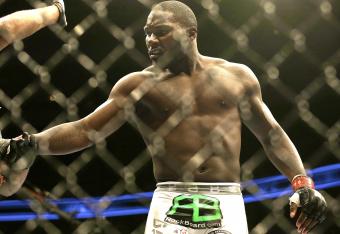 AP Images
It's hard to imagine a better comeback story than the one Anthony Johnson wrote for himself during the last four months.
Roughly two-and-a-half years after Johnson was fired for a chronic failure to make weight, his ascension into the UFC's light heavyweight elite is arguably 2014's biggest revelation so far. He cruised through back-to-back appearances against 205-pound stalwarts Phil Davis and Antonio Rogerio Nogueira and now sits poised to play a big part in what the fight company hopes is a red-hot second half.
In fact, perhaps Johnson has been a little too good since rising from the ashes of his previous career. At this point, it's going to be tough for matchmakers to find him a third fight that doesn't feel like a step backward.
By flummoxing Davis over 15 minutes at UFC 172 and exterminating Nogueira in fewer than 45 seconds at last weekend's UFC on Fox 12, Johnson already looks like a worthy No. 1 contender. Yet with champion Jon Jones set to defend against Daniel Cormier in September and the injured Alexander Gustafsson waiting in the wings, Johnson is about to learn the unofficial motto of UFC title hopefuls: