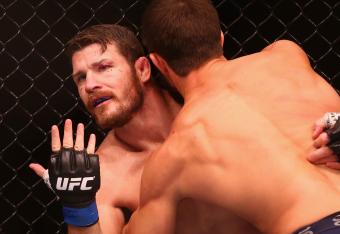 Mark Kolbe/Getty Images
In a video released Thursday, veteran Ultimate Fighting Championship middleweight Michael Bisping said the news of Anderson Silva's test failure for performance-enhancing drugs has tarnished his entire legacy.
Silva, 39, failed a random January 9 test for the substances drostanolone and androsterone. The promotion announced the news Tuesday evening. In a statement from Silva's manager, Ed Soares, provided to Damon Martin of FoxSports.com, the fighter proclaimed his innocence and said he will contest the failure. It was the first positive test of Silva's career.
But Bisping said Silva being nabbed on his first out-of-competition test could lead him to believe the former middleweight champion has been using PEDs for the entirety of his career.
"My initial reaction was sadness, disappointment. I was disappointed in Anderson, but then I thought about it and was like, 'Hold on a minute—this doesn't surprise me at all,'" Bisping said. "I believe this was the first time he was tested out of competition. So who's to say that he hasn't been doing this his entire career? That's the question that is always going to be asked.