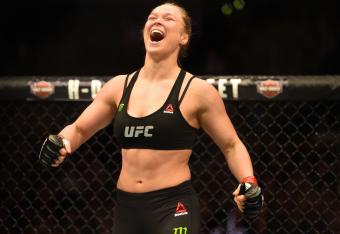 Harry How/Getty Images
In her last two UFC title defenses, bantamweight champion Ronda Rousey has beaten opponents Alexis Davis and Cat Zingano in a combined 30 seconds.
That is not a misprint.
Matched up with the very best women in world, Rousey has barely managed to break a sweat. It took her longer to explain her armbar win over Zingano than it took her to execute it. She is, without question, a force of nature.
Imagining her against other female athletes, frankly, is becoming a little bit difficult to pull off. What is the best-case scenario for a title challenger at this point? Someone pushes her into a second round? Actually wins a round? Wins a fight?