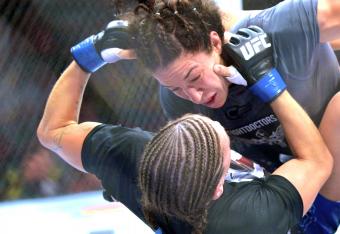 USA Today
Lauren Murphy hit Sara McMann a whopping 193 times Saturday night in Bangor, Maine, banging her about the head over and over again over the course of 15 minutes. McMann, in return, scored less than one-third as many blows, with a relatively paltry 64 punches landing cleanly on her opponent.
On paper, with just those stats in hand, you'd expect an easy decision win. The blitzkrieg from Murphy was never-ending—in fact, she landed a strike every 4.66 seconds. But when the decision was read, McMann's name was called twice and Murphy's once—a split-decision win for the heavily favored wrestler. When the decision was read, McMann's face lit up in an unabashed smile. Murphy's fell, if only momentarily, as she lost her composure, however briefly.
And me? I just shook my head. The wrestler's bias, once again, had reared its ugly head, and another fight was stolen from the hands of the rightful winner. New week, same story.
It wasn't always like this. The early days of MMA, in fact, were spent re-educating the audience about what a fight would look like if athletes weren't confined by the artificial constraints of boxing. It turned out—surprising absolutely no one who had ever seen two lugs rolling around on the ground—that fights all too often hit the mat.