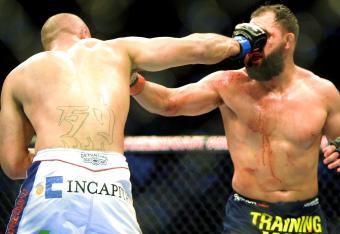 AP Images
Robbie Lawler flashed his pearly whites throughout his UFC title fight with Johny Hendricks. All but forgotten, one foot out the door just two years ago after a loss to Lorenz Larkin in Strikeforce, Lawler had worked his way back into title contention.
That, alone, is something to smile about. But getting punched in the face? Lawler was just so happy to be fighting for the belt that the mere thought of being there was enough to light up his eyes.
Hendricks lands a left hand? Smile.
Hendricks lands a big knee? Smile.