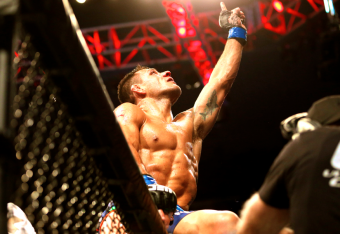 Tim Heitman/USA Today
Anthony Pettis is one of the best lightweights in the history of mixed martial arts.
This was hardly in doubt even before Pettis faced Rafael dos Anjos in the main event of UFC 185. His ability to finish the tough and durable top contenders in his division made him one of the UFC's brightest shining stars, a potential massive pay-per-view draw.
But injuries have derailed Pettis in recent years, preventing him from obtaining the kind of exposure that could increase his own personal brand. A recent change in his training methods, dialing back both the intensity and length of his training sessions and nearly eliminating weight training on days he sparred with a live opponent, helped keep him healthy and prepared to return to the Octagon just four months after his last fight.
Pettis brought a four-fight finishing streak into the Octagon, which is nearly unprecedented in UFC championship bouts. And he went into the fight as a significant favorite over dos Anjos, who was seen by most as mere fodder in Pettis' title reign.