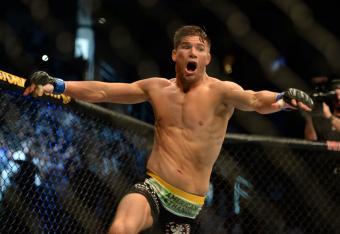 Kyle Terada-USA TODAY Sports
Josh Thomson won't deny there is a chip on his shoulder. And it's been there for quite some time.
The AKA staple and top-ranked lightweight has hovered in the conversation as one of the best 155-pound fighters in the world for the past decade. Yet, where his record and résumé reflect a body of work that commands respect, there is a subtle tell in the way he shifts slightly in his seat when the topic of his current situation comes up.
Make no mistake about it, the 35-year-old doesn't flinch when the subject of his upcoming bout with Benson Henderson next month at UFC on Fox 10 is posed, nor does he hesitate to share his feelings on how a title shot against Anthony Pettis eluded him. Those questions he answers with a tempered measure of excitement and clear-eyed reasoning; in a manner an 11-year veteran of the fight game would. That said, when the finer details of the path he's traveled for the past decade are put on the table, there is a different side of Thomson that comes to light.
In a typical conversation with the former Strikeforce champion, a joke or levity is always at the ready, but when it comes time to focus on the steps taken to reach the point he now stands, a grittier side to the current contender breaks through. While he's enjoyed success at a high rate and earned championship recognition along the way, Thomson pulls no punches when he explains the route he eventually had to travel wasn't the one he would have chosen.