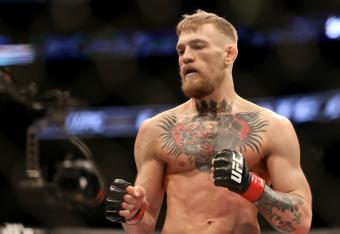 Gregory Payan/Associated Press
Our enduring memory from UFC Fight Night 59 will be Conor McGregor, moments removed from his easy destruction of Dennis Siver, leaping over the Octagon in search of his next foe.
McGregor found him. Jose Aldo, located in the second row—next to McGregor's stunning girlfriend, no less—stood with a smile on his face. McGregor, held back by a security detail that included Dana White's massive personal bodyguard, Kea (no last name needed), screamed at Aldo. In return, the UFC featherweight champion simply smiled. Aldo's daughter, standing in front of him, beamed at McGregor as well. Aldo continued smiling as McGregor climbed back on the cage and made the classic pro-wrestling "I'm taking the belt" motion with his hands.
It was an interesting moment. In McGregor, Aldo must see a chance to finally make the kind of big money he has watched other famous Brazilians bring home but has never quite obtained himself. The loudmouthed Irishman has been selling a fight with Aldo for what seems like ages now. He has constantly ensured that his current opponent was not overlooked but continually reminded fans of the ultimate goal: a championship fight with Aldo.
And now that moment is here—or at least it will be in a few months—and I wonder if Aldo will hold up his end of the deal. He has complained about his pay on a regular basis for quite some time. And there are signs that Aldo understands that he needs to be a little more vocal when it comes to McGregor; he took a photo of himself wearing a robe, crown and scepter while holding a drawing of McGregor as a court jester.