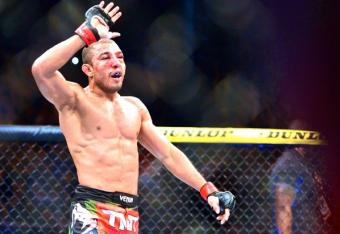 USA Today
The full brilliance of Jose Aldo was on display Saturday night in Rio de Janeiro, Brazil, as he outpointed a game Chad Mendes. An instant classic and fight for the ages, it was his eighteenth consecutive win and his ninth title defense. He stands alone as the greatest featherweight in the history of the sport, a strong contender for the elusive title of pound-for-pound kingpin.
In the cage, all of Aldo's strengths were on display. His powerful striking, killer instinct and stellar takedown defense made it all too clear why he's been dispatching all comers for nearly a decade.
It was only after the fight, when the roar of the crowd faded and the red lights of dozens of video cameras shined bright, that all of his weaknesses, too, came to the forefront.
Before the bout with Mendes, Aldo was vocal in his complaints about fighter pay, suggesting that the UFC owes its fighters a bigger slice of the monetary pie. It's a fair point, though perhaps not Aldo's to make. After all, he's a historically poor pay-per-view performer, failing over and over again to capture the hearts and minds of UFC fans. His interview after the fight with Fox Sports' Ariel Helwani shows why.