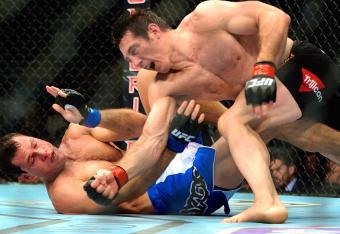 David Becker/AP Images
If more fighters took the same kind of public stance on performance-enhancing drugs as UFC middleweight Tim Kennedy, the sport of mixed martial arts might be better off.
Not everybody can be Kennedy, of course. He is nearly one of a kind: a cerebral and talented fighter who is willing to speak his mind. He is a special forces operator who still, 12 years after beginning his professional mixed martial arts career, still does sporadic "work" for the United States government. What kind of work, Kennedy won't say. But it is safe to assume that, given his background as an elite sniper, Kennedy isn't building roads in foreign countries.
But more importantly to our interests, Kennedy is unafraid and unapologetic when it comes to the subject of PEDs. He believes mixed martial arts is a dirty and broken sport, and he is so disillusioned with the way things are going that he's not sure he'll ever fight again. He is not retired, he told Ariel Helwani on Monday's edition of The MMA Hour (h/t MMA Fighting). But he also is not in a hurry to get back in the Octagon.
Kennedy isn't scared of pointing a little blame at Lorenzo Fertitta and Dana White, either. He told Helwani that he sees what he believes is "lip service" from White and Fertitta every time somebody fails a drug test. Changes are promised, Kennedy said, "and then nothing changes."