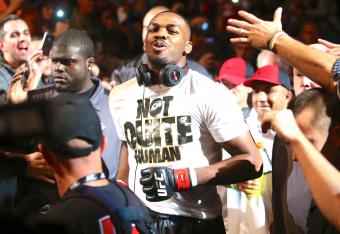 Tom Szczerbowski/USA Today
UFC light heavyweight champion Jon Jones is one of the most controversial fighters in mixed martial arts.
He is a study in contrasts. He often appears humble and respectful. I spent a day with him in Albuquerque, New Mexico, last month as he prepared to defend his title against Glover Teixeira, and he continually called me "sir." When I pointed out that such manners were a rare thing these days, Jones told me it was a product of the way his parents raised him and his two brothers, Chandler and Arthur.
"My mom and dad taught us to never express ourselves negatively to adults. And now, even though I'm 26, if you are older than me, you get a please and thank you," he said. "It's something that I take seriously."
On the other hand, there is the version of Jones that is reviled by the fans. The one that is embroiled in various social media controversies and mocks fans for claiming he's a dirty fighter. The one that took the blame for the cancellation of UFC 151 when he refused to fight Chael Sonnen on short notice.