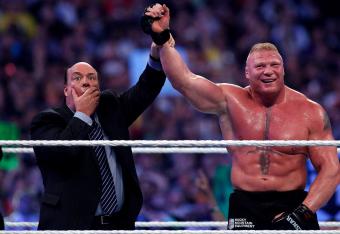 Jonathan Bachman/Associated Press
Brock Lesnar's run in World Wrestling Entertainment might be coming to an end. Or, at least his contract is expiring after WrestleMania in a few weeks, making him the hottest free agent in combat sports. WWE, the UFC and Bellator have all expressed interest in securing Lesnar's services, according to Sporting News.
Where should Lesnar go? Should he stick around the relatively safer confines of a WWE schedule that allows him to work limited dates each year for a massive amount of money? Lesnar's friend, Paul Heyman, told Fox Sports The Beast is healed from the diverticulitis that caused him so much grief during his run as UFC heavyweight champion.
Should Lesnar, if he's actually healed, go back and try to prove to himself and to the world that he's better than the way his days in the UFC ended?
To discuss this hot topic, Bleacher Report lead writers Jonathan Snowden and Jeremy Botter teamed up, like a prettier version of The Bushwackers, to discuss where Lesnar should stick with professional wrestling or go back to the Octagon.