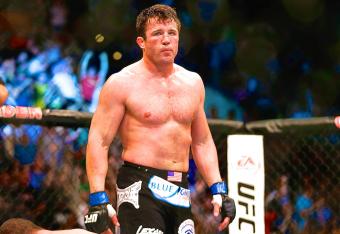 Jared Wickerham/Getty Images
"We all understand how these things go. The Ultimate Fighter has been around since 2004 or 2005. Nothing like this has ever happened. You have coaches pushing each other. But it's always verbal, and everyone understands the deal. But I don't even share that philosophy, of even letting it get verbal. I'm there to coach, and I've got the gym certain hours. I'm not into pranks or any of that stuff.
"No, I never would've believed it would turn physical."
Chael Sonnen is telling me about the infamous brawl between he and fellow TUF Brazil coach Wanderlei Silva. It has been billed as a watershed moment for the season, at least in hype videos, and it is now available for the world to see on Fight Pass.
Much has been made of this moment. In hindsight, it seems easy to see that Sonnen and Silva would come to blows before they stepped in the Octagon. The pair have a heated rivalry dating back several years, with Sonnen goading Silva and Silva becoming increasingly unhinged.