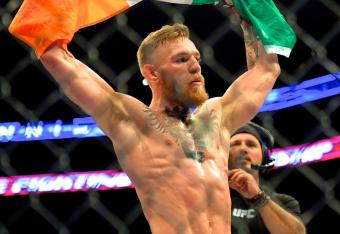 USA Today
LAS VEGAS — Conor McGregor is not a man known for his subdued nature.
McGregor is brash, from his newfound taste for expensively tailored suits to the over-the-top persona that has quickly turned him into one of the UFC's biggest stars. And he has backed it up in the Octagon thus far, putting together a streak of wins that will land him in the cage this summer in the headlining bout of the UFC's International Fight Week against featherweight kingpin Jose Aldo.
But mostly, McGregor is known for his personality and for the things he says when the cameras are on. Last week, while in Rio de Janeiro, McGregor spoke of how, in a different and much older time, he would ride into Aldo's favela on horseback and kill everyone who was not fit to work.
He has branded himself the king of the featherweights, and on Monday morning he told a gathering of reporters that he planned on leaving the division after beating Aldo, unless the rest of the top-10 featherweights lined up and apologized for offending him.