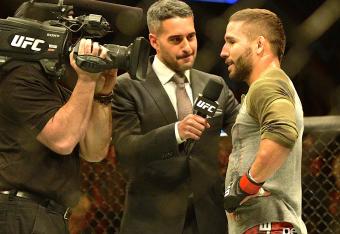 Tommy Gilligan/USA Today
They say there is an unwritten rule that fighters who have lost two title shots to the same champion don't get a third chance.
And perhaps it's a good thing, for the most part. It is a tough thing, trying to sell the public on the championship aspirations of a fighter who has already twice been soundly trounced by the same person.
But there are situations when the rule needs to be thrown out the window. Never has that been made more clear than after Saturday's trouncing of Ricardo Lamas, himself a respectable top featherweight fighter, by Chad Mendes, who separated himself from the rest of the featherweight pack with a vicious first-round knockout.
It is clear that Mendes deserves another title shot. He was knocked out by Jose Aldo the first time around. The second fight was much closer and was thrilling.