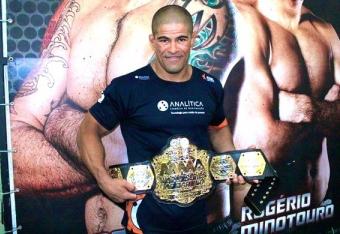 WSOF
Big fighters. Small fighters. Rich fighters. Poor fighters. Ground fighters. Stand-up fighters. Mixed martial arts contains multitudes—fighters seemingly crafted especially to fulfill their role in the combat sports ecosystem.
But, in this vast sea of archetypes and stereotypes, there is only one Rousimar Palhares, the World Series of Fighting welterweight champion who submitted longtime UFC contender Jon Fitch in just 90 seconds Saturday night on NBCSN.
Fighting is all about misdirection. The most successful prize fighters are the ones who lull opponents into a false sense of security, zigging left at the exact moment their foe expects them to zag right. Trickery, much more than pure force, is the hallmark of the world's best.
Perhaps that, even more than the string of bodies he's left in his wake, is why Palhares inspires such terror. There is nothing tricky about anything he does. His purpose is single-minded. His approach is entirely predictable.