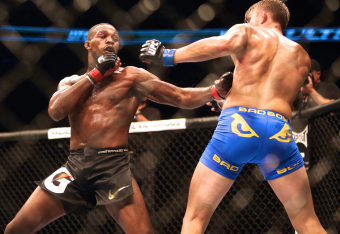 USA Today
Alexander Gustafsson, the recently minted Swedish superstar, doesn't appear to be going away anytime soon. Six months after he took champion Jon Jones to the limit in 2013's best fight, Gustafsson dismantled British slugger Jimi Manuwa in compelling fashion.
Showing no mercy in Manuwa's own backyard, Gustafsson managed to knee his opponent in the face while simultaneously propping up the UFC's new Fight Pass streaming system.
No small feat, that.
After the fight, he took to the microphone. There, the usually soft-spoken Gustafsson minced no words, straight ganking the microphone from UFC analyst Dan Hardy to let his soul flow out.
"Jon Jones, I want my title shot again," a passionate Gustafsson said. "I'm right here. Whenever you want, man. Whenever you want."