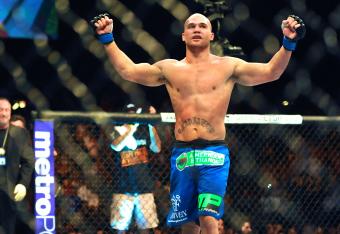 USA Today
Five minutes flies by in a flash, at least in most contexts. It's the length of time it takes to heat a standard microwave dinner.
Five minutes is fleeting. Five minutes is transitory. What's five minutes?
But for UFC challenger Robbie Lawler, five minutes on March 15, 2014, were ultimately unforgettable.
For four rounds at UFC 171, Lawler—in the midst of an inexplicable and improbable comeback after seemingly falling right off the MMA map—battled Johny Hendricks in thrilling even-Steven fashion. On two of three scorecards, the two were even going into the final frame.