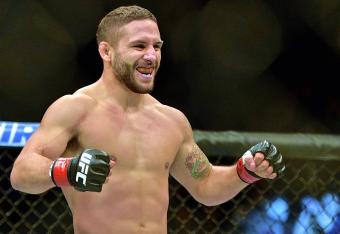 USA Today Sports
We need to talk about Chad Mendes.
Mendes rolled over Ricardo Lamas via first-round TKO Saturday afternoon at UFC Fight Night 63, efficiently reaffirming his status as the second-best fighter in the company's suddenly scintillating featherweight division.
Will that be a problem?
Mendes is now 29 years old and gives every impression of being at the top of his game. His evolution from NCAA Division I All-American wrestler to complete MMA fighter may be one of the more impressive, if undersold, stories in the 145-pound weight class. He's 17-2 overall (8-2 in the UFC) and has made violently short work of most of his competition.
But Mendes has already lost twice to champion Jose Aldo in the Octagon—at UFC 142 in July 2012 and at UFC 179 last October. Depending on the outcome of Aldo's title defense against Conor McGregor at UFC 189 in July, that fact could put Mendes and UFC matchmakers in a tough spot.