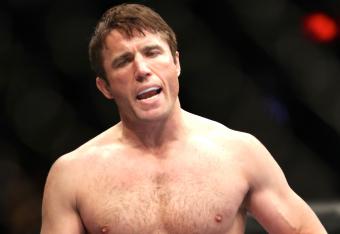 AP Images
Retired mixed martial artist Chael Sonnen was handed a temporary suspension by the Nevada State Athletic Commission on Tuesday, and a hearing will be held on a future date to determine his official punishment.
The commission hearing was streamed worldwide on UFC Fight Pass. Bleacher Report attended the meeting via conference call.
Sonnen failed a drug test for clomiphene and anastrozole. He was informed of the failed test results and the complaint against him on June 9. Both drugs are anti-estrogens that counteract the effects of performance-enhancing drugs like testosterone and help to start up the body's natural production of testosterone after the synthetic version is eliminated.
Sonnen used testosterone replacement therapy for years before the commission banned it earlier this year.