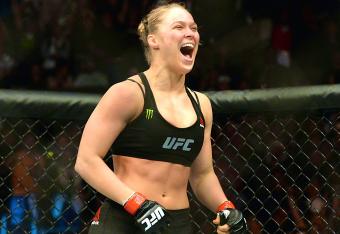 Jayne Kamin-Oncea/USA Today
Cat Zingano came charging out of the corner, launching herself at UFC bantamweight champion Ronda Rousey with a fierce determination, murder in her eyes and weeks of muscle memory twitching in every fiber.
That didn't end up being the best decision she's ever made.
Fourteen seconds after the bell rang to signal the commencement of the fight, Zingano was tapping desperately, her arm contorted at a horrible angle, her title dreams dashed. She had no hope of beating Ronda Rousey.
Perhaps no woman in the UFC does.
Last week, Jeremy Botter and I discussed Rousey's place among the most dominant female athletes of all time. But no matter who you pick out of a crowded field of greats, all of them have met defeat. Martina Navratilova, for example, crushed the competition for more than a decade—but she also lost 13 of every 100 matches.