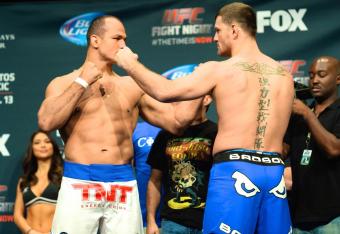 USA Today
On Saturday at UFC on Fox 13, the giants will once again roam the Octagon.
Even as the top of the fight company's 265-pound division remains in limbo while awaiting the return of champion Cain Velasquez, it's hard not to notice the UFC heavyweight ranks picking up a little steam.
This weekend, three fights will be on tap in the organization's heaviest weight class, including a main event between Junior dos Santos and Stipe Miocic that (maybe, possibly) has title implications. Also on hand will be the likes of Alistair Overeem, Matt Mitrione, Stefan Struve and Gabriel Gonzaga.
That's not too shabby, considering all we have to do to watch is sit back, grab the remote and locate the Fox network on our television dials.