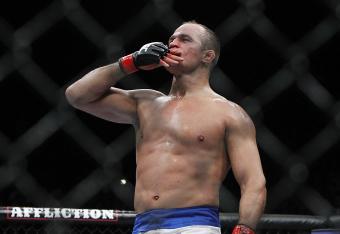 Gary A. Vasquez-USA TODAY Sports
There is perhaps no more noticeable smile in all of mixed martial arts than the one that belongs to Junior dos Santos.
The Brazilian knockout artist seems to operate in a realm of perpetual happiness, and in a business as ruthless and brutal as the one he trades in, the rarity of that particular attribute puts the 29-year-old in a league of his own.
MMA is an environment lined with tough guys, and Dos Santos is one of the toughest of them all. Yet, his ability to embrace the positive remains. Despite everything he's been through—personally and professionally, good times and bad—his happiness can't be swayed. The dude is just happy, and a passionate fanbase has embraced him because of it.
That, of course, and his ability to settle his opposition with well-timed violence. Dos Santos' life has changed in overwhelming fashion because of his ability to separate grown men from their consciousness, a feat he's proved to be remarkably consistent at accomplishing.