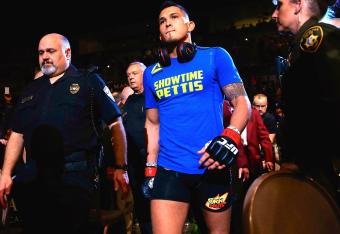 Alex Trautwig/Getty Images
After just five fights in almost four years, Anthony Pettis knew something had to change.
Injury after injury piled up, stealing important years from his prime.
He did not enjoy being known as a frail champion, as someone who constantly pulled out of scheduled fights.
He did not enjoy being the butt of jokes. Not when all he wanted was to defend his belt on a consistent basis and to make a lot of money. He wanted to be the UFC's king of pay-per-view, a must-see attraction. But he couldn't be the king of pay-per-view if he couldn't stop pulling out of pay-per-views.