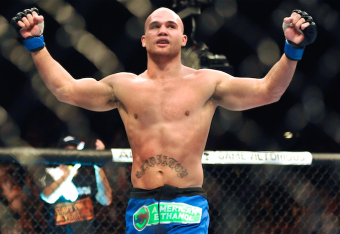 Stephen R. Sylvanie/USA Today
Robbie Lawler, circa 2001, was a fight promoter's dream. Raw-boned, corn-fed and lily white, the 19-year-old Iowan prodigy appeared to be cut from granite as he laid waste to Saburo Kawakatsu at a long-forgotten extravaganza in Hawaii.
The world wasn't watching Shogun Fights, but that wasn't important, at least not for Lawler. One man who mattered was in the front row watching the laser light show and world-class fighters—Dana White, in his first year as UFC president and looking to reinvent the fight game.
White, on his way toward becoming one of America's most iconic fight promoters, knew what he wanted. And he wanted Lawler, going so far as to compare a kid in his fourth professional fight to the fearsome boxer Mike Tyson, signing him to a UFC contract in what he called "a Christmas present to myself."
At the time fans had a bit of fun with that piece of hyperbole. Though not yet bald and bombastic, White was already developing a reputation as an emotional and compelling interview. This, it was thought, was just an early example of Dana being Dana.