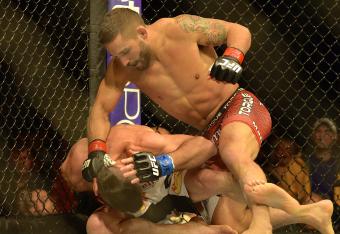 Tommy Gilligan/USA Today
On a normal fight night I tend to wake up, look at the clock and dread the 14 listless hours I know I'll spend waiting for the fights to finally begin. Those are truly wasted hours too—after all, nothing fills the emotional void quite like face punching.
Perhaps that's what made this random UFC Fight Night from Fairfax, Virginia, feel so special? By the time Chad Mendes re-established himself as the second best featherweight on the planet, it was just after lunch. The whole day was still waiting to reveal itself.
Morning mixed martial arts—quite a revelation.
Of course, the entire show wasn't perfection, even if the start time was. But what card is? In a new post-fight series, we'll look at the card as a whole and choose the five best and worst moments—the handful of things worth talking about on Twitter afterward.