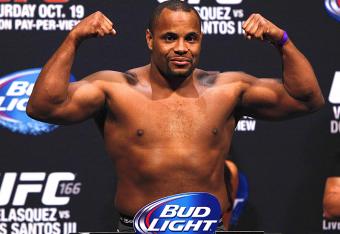 USA Today
LAS VEGAS — A week ago, Daniel Cormier weighed 225 pounds. Friday, he weighs 223 pounds. By next Friday, he'll be 219 pounds. In just more than a month, he'll weigh 215 pounds, where he'll begin his actual weight cut. And when he steps in the cage to face Rashad Evans at UFC 170, Cormier hopes to weigh 223 pounds or more.
Of course, he'll need to weigh 205 pounds in there at a very specific point—on Feb. 21, around 4:25 p.m. local time—and that's the thing that has everyone concerned for Cormier's well-being. Right now, the former Olympian is fine. He's comfortable. He's visibly smaller, leading fellow Fox Sports analyst Kenny Florian to make jokes about Cormier wearing skinny jeans. He is not wearing skinny jeans on this day in Las Vegas. But he looks well on his way to light heavyweight, and has arrived at his current weight solely through a changed diet. The hard part will come during fight week, when he's cutting from 215 to 205.
Specifically, the hard part will arrive once Cormier nears 211 pounds. That's the number that got Cormier in trouble the last time he was this small, in 2008 when his kidneys failed during an attempt to cut for the Olympic Games, and it's a number Cormier acknowledges will play mental games with him.
"I think once I get to 213 pounds, that's when I'm going to be like, 'Oh, here we go. I'm doing this again,'" Cormier says. "Mentally, I'm going to have to get past that 211 mark."