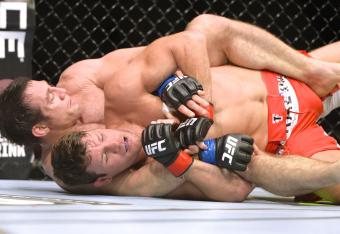 Eric Bolte/USA Today
Michael Bisping put his gift for gamesmanship on full display leading up to his return fight against Tim Kennedy.
Bisping's penchant for the dramatic was evident during weeks of trash talk, media appearances and one supercharged staredown at the official pre-fight weigh-in. When they finally got in the cage on Wednesday at the The Ultimate Fighter Nations Finale, however, Kennedy refused to play his game and the cocky Brit—a man seemingly never lost for words—couldn't find an answer.
Bisping simply conceded too many takedowns, ate too many right hands and eventually allowed Kennedy to deal him a costly defeat via fairly lopsided unanimous decision (49-46, 49-46, 50-45).
It was his first Octagon appearance in nearly a year, and he exited looking like a man in decline, 2-3 in his last five fights and on the heels of surgery for a detached retina.