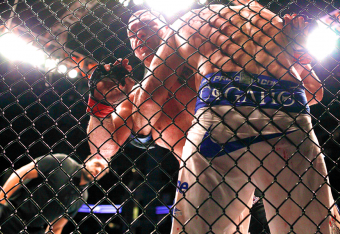 USA Today
There's no gentle way to put it: The UFC's heavyweight division is old.
Like, really old.
The average age of the current Top Five heavyweights, per the latest set of UFC rankings—keeping in mind that this also includes Mark Hunt (41), who will no doubt drop out of the Top Five when the latest set of rankings are released this week—is 34 years old.
The UFC's current Top 10 is a list of aging fighters, with zero young prospects currently making their way up the rankings. Dutch skyscraper Stefan Struve is just 27 years old, but he's far beyond what you'd call a prospect. Heavyweight champion Cain Velasquez is still quite young at 32, but his injury-riddled body has kept him on the sideline for many of his prime years.
Still, the fighters in the heavyweight division will always intrigue people because they're heavyweights. They're big, powerful dudes with knockout power across the board, and people love that sort of thing.