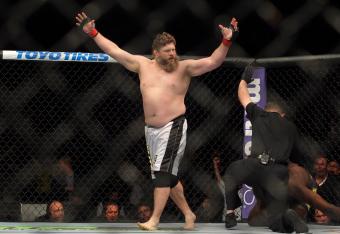 Brad Penner-USA TODAY Sports
Roy Nelson is truly in a league of his own.
The iron-chinned heavyweight with cinder blocks for hands has been a staple at the highest level of the sport for the better part of the past decade, and his ability to dish out one-punch destruction has made him a favorite with the mixed martial arts fanbase.
"Big Country" is easily one of the most recognizable figures in the sport. The grizzled prowess of his "mountain man" beard and the luxurious spill of his mullet have helped to elevate a profile initially created by his ability to best the opposition inside the cage. These elements have ultimately been amplified by Nelson's brutal honesty where soundbites are concerned as the 37-year-old has developed a reputation for being one of the gamest interviews in all of MMA.
With that in mind, there is perhaps no person more suited for this series than he.