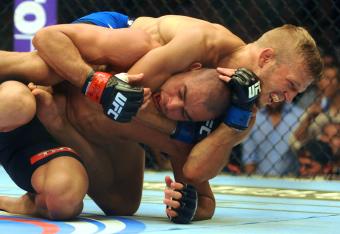 USA Today
Last week, I followed TJ Dillashaw as he prepared for his UFC 173 bout against Renan Barao. He was one of the biggest underdogs ever to participate in a championship bout, and few gave him a chance of making it out of the first round, much less pulling off the historic upset.
In my time spent with Dillashaw, I saw a man completely unfazed by the task ahead of him, as though he had no idea what the fans and oddsmakers were saying.
He was relaxed, loose and absolutely confident that he'd be taking the title back to Sacramento. He spoke of all the things he'd need to get used to as bantamweight champion, such as spending fight weeks in the nicest hotel suites available instead of standard rooms.
Where did his confidence come from? How was he able to overlook the long odds he faced?