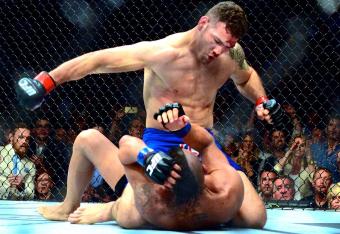 USA Today
During his final pre-fight interview at UFC 187, Chris Weidman said he was looking forward to putting what he called "the Vitor Belfort era" behind him once and for all.
It had taken more than 15 months to get him in the Octagon with Belfort, owing to the challenger's failed drug test and Weidman's injuries. When he finally got his chance, the middleweight champion wasted very little time bringing their long, simmering feud to a thudding end.
Weidman survived a brief—but heart-stopping—flurry from Belfort early in their co-main event bout Saturday before he was able to ground him with a takedown in the middle of the cage. From there it was academic, as Weidman worked quickly to a dominant position and pounded Belfort until the referee pushed him off.
Total time it took him to work out his frustrations: two minutes, 53 seconds.