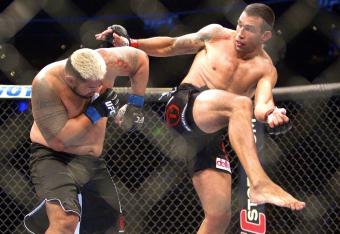 Getty Images
The UFC's heavyweights have never really found their stride.
For a brief time during the Brock Lesnar Administration, the 265-pound division felt fresh and vital. It felt—for lack of a better word—big. But first diverticulitis and then increasingly difficult competition felled Lesnar, and the heavyweight ranks lapsed back into their old, unstable tricks again.
Such was the case for almost all of 2014.
Current champion Cain Velasquez may be the most talented man ever to fight in the UFC's heaviest weight class, but so far, it has been his penchant for injury that has mostly defined him. It also makes him feel like the perfect symbol for this eternally troubled division.