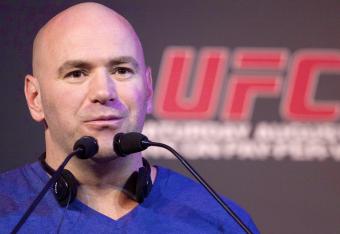 AP Images
Just in case anyone was wondering, UFC President Dana White wants us all to know the state of his company is strong, thank you very much.
"Business has never been better for us," White told Yahoo's Kevin Iole this week, bolstered by healthy live-gate figures from the UFC's recent shows in New Zealand and San Antonio, as well as his estimation that paid attendance for UFC 175 could top $5 million.
Iole wrote White "angrily scoffed" at recent criticisms that the world's largest MMA organization is spreading itself too thin, quoting the bombastic UFC boss saying he was "just sick of listening to it, because it's so (expletive) stupid and wrong. People are (expletive) without any facts."
Not that he'd tell us if anything was wrong, mind you. The UFC guards most of its financials as state secrets, so any effort to gauge the promotion's health necessarily includes a lot of conjecture. It would be easier on everyone if the company opened its books, but so long as it won't, we all have to make do with the information that is available.