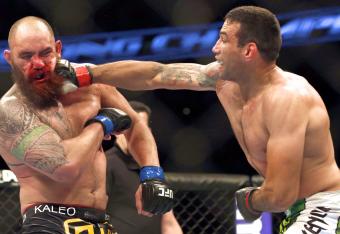 AP Images
The new Fabricio Werdum truly emerged against Travis Browne in the third round of their title eliminator on Fox. In the classic Brazilian "butt scoot" position, Werdum challenged Browne to hit the mat and roll around with him a bit. Browne, wisely, wanted no part of the former Brazilian jiu-jitsu champion.
The old Werdum would have made quite a petulant show of it. A ground-first fighter, he had managed to capture not a single heart or mind in his 12-year career despite beating a who's who of the sport's best heavyweights.
The new Werdum?
He simply smiled, kipped up like he was the second coming of The Rock, a fairly flabbergasting feat for a man approaching 260 pounds, and proceeded to walk over and continue beating Browne to a pulp.
"Werdum has been fooling all of us," Fox Sports 2 analyst Chael Sonnen said after the fight. "He doesn't have to take you down to beat you. He just Muay Thai's you to death."