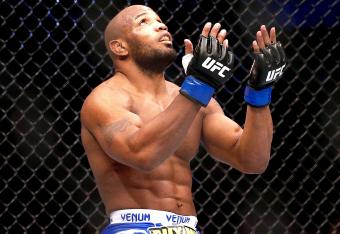 AP Images
For Yoel Romero, perhaps the trick will be avoiding any further episodes of foot-in-mouth disease just long enough for him to fight for the middleweight title.
A few days removed from his stunning third-round TKO win over Lyoto Machida at UFC Fight Night 70, most of the headlines about Romero are still fixated on the fighter's bizarre postfight comments, rather than his actual performance in the cage.
That must be disappointing for Romero. He turned in the most complete and impressive showing of his career on Saturday, walking through Machida's kicks to his legs and body, landing his own punches with shocking regularity and finishing the fight mere seconds after dropping Machida with a beautiful takedown in the early stages of the final stanza.
Then again, what do you expect? You can't use your mic time on live TV to deliver an incomprehensible diatribe aimed—probably, maybe—at the U.S. Supreme Court's recent legalization of gay marriage without expecting it to completely overshadow the biggest victory of your life.