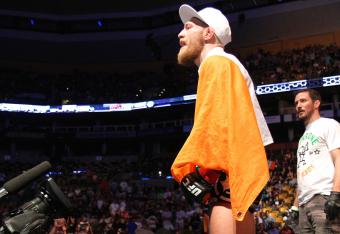 Gregory Payan/AP Images
Growing up in Dublin, Conor McGregor was just like every other Irish boy.
Which is to say, McGregor grew up with dreams of playing football. In a family filled with fans of Manchester United—for many Irish, United are a way of life despite the club's location in another country—McGregor followed suit. When he was eight years old, he'd pull on his United kit, walk outside and kick the ball against the wall of the family home. When he scored an imaginary goal, he launched into an imaginary celebration, running around the yard and picturing 100,000 fans packing Old Trafford, all screaming his name.
In that way, McGregor was preparing himself for his future life. The football fandom would eventually fade away. Today, McGregor couldn't name a single member of Louis van Gaal's 2014-2015 United squad. He is still surrounded by the football and United-mad Irish in Dublin, but McGregor is no longer part of that world.
But no matter how much things change for McGregor, one thing remains the same: Even as a child, running around the yard in his United kit, McGregor wanted to be a star.