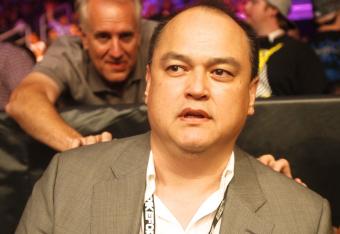 AP Images
They didn't hire him for his conference calls, that's for sure.
Scott Coker was suddenly back in our lives on Wednesday, re-emerging as one of MMA's most influential powerbrokers after the ouster of Bellator executives Bjorn Rebney and Tim Danaher. The former Strikeforce honcho had been flying under the radar since his lame-duck UFC contract expired earlier this year, but rest assured very little has changed with him.
At least that much was clear when Coker appeared alongside Spike TV President Kevin Kay on a late afternoon media call, officially becoming Bellator's new president and taking over the fight promotion's day-to-day operations.
The point of the call was to announce what Coker called "Bellator 2.0," but there was a nostalgic element to it as well. We hadn't heard much from him since he sold Strikeforce to the UFC in March 2011 for a reported $40 million bailout.