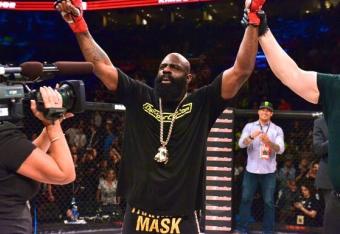 Bellator MMA
It was either going to be quick, or it was going to be bad.
Those were about the only two options Friday night, when Bellator MMA dusted off 51-year-old Ken Shamrock to fight 41-year-old Kimbo Slice in a nationally televised main event bout.
Luckily for almost everyone involved—with the notable exception of Shamrock—it was the former.
Slice saw to that, surviving a deep rear-naked choke attempt and flattening Shamrock with a winging right hand in just two minutes, 22 seconds. Along the way, Bellator MMA pulled off the unthinkable, squeezing a halfway entertaining fight out of two middle-aged men who had not competed in MMA since 2010.