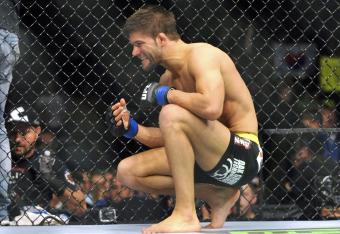 USA Today
The weather outside of the United Center may have been blistering cold, but the action inside was anything but as the Octagon returned to Chicago for UFC on Fox 10.
The fighting faithful battled subzero temperatures throughout the week as the anticipation for the event steadily built. On Saturday night, the time for waiting was over, and the "Windy City" hosted the UFC's first major event of its 2014 campaign.
A high-profile tilt in the lightweight division headlined the card as former champion Benson Henderson locked up with former Strikeforce title holder Josh Thomson. Henderson, who was coming off his first loss in three years when he dropped the 155-pound strap to Anthony Pettis at UFC 164 back in August, had the opportunity to take a huge step back toward title contention against Thomson on Saturday.
It was a similar situation—if not more so—in regard to a future championship opportunity for Thomson. The AKA staple was originally slated to face the current reigning title holder at UFC on Fox 9 in December until an injury forced Pettis to withdraw. Rather than sit around and wait for Pettis to heal, "The Punk" decided to roll the dice and agreed to step in against Henderson at UFC on Fox 10.