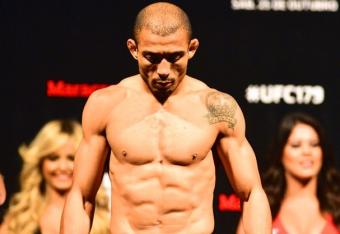 USA Today
Jose Aldo is the only featherweight champion the UFC has ever had.
It has been nearly nine years since he gave up the only loss of his career, and truth be told, he has rarely been challenged since that night. He stormed into the WEC in 2008 and finished his first five opponents, then finished champion Mike Brown to capture the featherweight title. That championship eventually became the UFC featherweight title, and Aldo's held it ever since.
But those six finishes to begin his Zuffa career? Those became increasingly rare after Aldo captured the belt. In the four years he's been WEC/UFC champion, Aldo has finished three opponents. He's gone to decision five times. Granted, his pace has slowed greatly; eight fights in four years is not a very dense schedule.
Still, it's as though Aldo's style has undergone a shift in tone. He's no longer the terrifying finisher he once was. Instead, he's content to sit back and wait for his opponents to make a mistake. If they don't make a mistake, he's perfectly fine scoring enough points to win a decision.